Le phénomène collégial : une théorie structurale de l'action collective entre pairs
Recently, original neo-Weberian theories have listed a series of formal characteristics differentiating « collegial » organizations from bureaucratic ones. This paper sketches a structural theory of collective action among peers that completes the neo-Weberian approach. Using the study of partnerships as an institutional form, it reconstitutes three generic social mechanisms characterizing this form of cooperation at the collective level : a multiplex and generalized exchange system, a lateral control regime, and the negotiation of precarious values among multi-status oligarchs. This reconstitution is based on a minimal conception of actors as interdependent and niche seeking entrepreneurs trying to carve out a place for themselves in the organization by participating in various forms of status competition and by solving problems of collective action without autocratic leadership. Illustrations are taken from a structural case study, that of a corporate law partnerhsip, and from the literature on organizations of professionals and experts.
Récemment, des théories néo-wébériennes originales ont énuméré l'ensemble des caractéristiques formelles qui différencient les organisations « collégiales » des organisations bureaucratiques (Waters, 1989, 1993). Cet article esquisse une théorie structurale de l'action collective entre pairs qui complète l'approche néo-wébérienne. S'appuyant sur l'étude d'une forme institutionnelle spécifique, l'association en nom collectif, il reconstitue trois mécanismes sociaux caractéristiques de cette forme de coopération : un système d'échange généralisé et multiplexe, un régime de contrôle latéral et la hiérarchisation de valeurs précaires au sein d'une oligarchie de dirigeants. Cette analyse évoque une conception minimale des acteurs comme entrepreneurs chercheurs de niches sociales, se construisant une place dans l'organisation par la concurrence de statut et parvenant à résoudre des problèmes d'action collective sans leadership autocratique. Les illustrations sont extraites d'une étude de cas approfondie - celle d'un cabinet d'avocats d'affaires - et de la littérature sur les organisations d'experts.
Fichier principal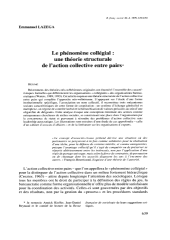 1999-lazega-le-phenomene-collegial.pdf (2.5 Mo)
Télécharger le fichier
Origin : Publisher files allowed on an open archive