L'État entre retrait et réinvestissement des territoires
This article analyzes the restructuring of relations between the French state and its territory and how that restructuring impacts on the state bureaucratic apparatus. Our empirical study was of a "deconcentrated" service of the Ministry of Higher Education and Research called the Délégation Régionale à la Recherche et à la Technologie or DRRT, staffed by representatives of the state at the regional level (called "delegates") whose task is to help steer research and technology policies. Though the state is making increasing use of local governments and regional-level proposals and structures to steer public policy in this area, it is doing so by withdrawing from its deconcentrated services. The only maneuvering room those services still have concerns European Union grants; they no longer mediate between the central state, administrative staff and local academics.
En prenant le cas d'un service déconcentré du ministère de l'Enseignement supérieur et de la Recherche – les Délégués régionaux à la recherche et à la technologie (DRRT) –, l'article analyse les restructurations qui marquent, depuis le début des années 1980, la relation entre l'État et son territoire et leurs effets sur l'appareil bureaucratique étatique. Alors que les DRRT sont créés en 1981 pour promouvoir de nouveaux partenariats avec les acteurs locaux, ils sont progressivement marginalisés du gouvernement des politiques de recherche et d'innovation. L'implication croissante des collectivités locales et le recours de plus en plus fréquent à des appels à projets compétitifs par l'État aboutissent à organiser de manière directe les relations entre le centre étatique, les élus locaux et les représentants du monde académique. Seule la gestion de certains fonds européens est favorable aux DRRT. Le gouvernement des politiques de recherche et d'innovation témoigne donc de phénomènes de retrait et de réinvestissement des territoires : si l'État s'appuie de plus en plus sur les collectivités locales, des structures et des projets territoriaux pour piloter ces politiques publiques, c'est cependant en désinvestissant ses services déconcentrés, qui ne jouent plus un rôle de médiation entre le centre étatique, le personnel politique et la communauté académique locale.
Fichier principal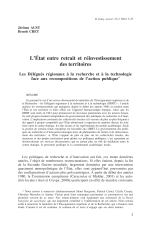 2012-01-aust-l-etat-entre-retrait-et-reinvestissement-des-territoires.pdf (211.61 Ko)
Télécharger le fichier
Origin : Publisher files allowed on an open archive