Elites économiques : à qui profite la financiarisation ?
The earnings of the ceos of the major firms (and of the traders) have hugely increased since the 1990s, leading to scandals and the implementation of codes of good conduct. These increases have been justified by the allegedly fierce competition for the recruitment of ceos, but also by the notion that their interests would be aligned on the interests of their companies' shareholders—which is denied by all the available empirical studies. Financialization has thus allowed bosses to increase their earnings without really reducing their autonomy. The governance reforms have in the end contributed to the inflation of earnings.
Les rémunérations des PDG des plus grandes entreprises (comme celles des traders) se sont très fortement accrues depuis les années 1990, donnant lieu à des scandales et à la mise en place de codes de bonne conduite. Ces augmentations sont justifiées par la concurrence supposée pour le recrutement des PDG, mais aussi par l'idée qu'elles permettraient d'aligner leurs intérêts sur ceux des actionnaires de leurs entreprises. Les données empiriques disponibles montrent pourtant qu'aucun de ces deux mécanismes ne fonctionne réellement. La financiarisation a ainsi permis aux patrons d'accroître leurs rémunérations, sans vraiment entamer leur autonomie. Les réformes de la gouvernance ont même finalement contribué à l'inflation de leurs salaires.
Fichier principal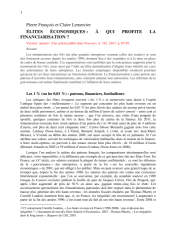 francois-lemercier-pouvoirs-vauteurs.pdf (238.73 Ko)
Télécharger le fichier
Origin : Files produced by the author(s)