Mesure de la volatilité électorale en France, 1993-1997
The study, based on two CEVIPOF surveys, measures electoral mobility between two elections (1993 Parliamentary/1995 Presidential elections ; 1995 Presidential/1997 Parliamentary elec­tions). It innnovates by its extensive definition of mobility, taking into account all possible choices, including non voting and invalid votes, and by differentiating, with the help of a log-linear model, between statistically significant mobility and « normal » mobility generated by the differences in the size of electorates. It shows that the rate of mobility is fairly high : half of the voters change their vote in two successive elections. But most of it consists in back and forth movements between voting and non voting, or in internal mobility, within the Left or the Right camps. The transgression of the Left/Right divide is exceptional, despite the rise of a party such as the Front national. To win an election, the problem is not so much to attract voters from the opposite side as to convince those who are on one's own side to go to the polls.
L'étude mesure la mobilité électorale entre deux scrutins (élections législatives de 1993/prési-dentielle de 1995 ; présidentielle de 1995/législatives de 1997) à partir de deux enquêtes du CEVIPOF. Elle innove par sa définition extensive de la mobilité, incluant tous les choix pos­sibles, non-vote et vote blanc compris, et par la distinction qu'elle fait, à l'aide d'un modèle log-linéaire, entre les trajets statistiquement significatifs et la mobilité « normale » induite par les différences de taille entre électorats. On en retiendra que le taux de mobilité observé est élevé : un électeur sur deux environ change de vote entre deux élections. Mais celle-ci pour l'essentiel résulte de va-et-vient entre vote et abstention, ou de mouvements internes à chaque camp. La transgression de la frontière gauche-droite, malgré la percée d'un parti comme le Front national, reste marginale. Pour gagner une élection, il s'agit moins d'attirer les électeurs de l'autre bord que de convaincre son propre camp d'aller aux urnes.
Fichier principal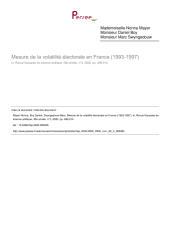 2000-mesure-de-la-volatilite-electorale-en-france.pdf (2.6 Mo)
Télécharger le fichier
Origin : Publisher files allowed on an open archive