Vers une réforme des règles budgétaires dans la zone euro ?
After the COVID-19 crisis, public debts in euro area Member states will stand on average at 100% of GDP. EU fiscal rules were suspended during the crisis and must be reformed. This will be under discussion in 2022. Section 2 discusses the principle of fiscal rules, especially in the EU. Section 3 analyses various reforms proposals. Some consensus seems to be emerging on public expenditure rules, where public expenditure would need to grow less rapidly than nominal GDP, so as to bring the public debt-to-GDP ratio down to 60%. This rule does not allow for satisfactory macroeconomic stabilization, has no guaranteed longer-term, and does not respect national fiscal policies autonomy. In Section 4, we make a proposal inspired by functional finance. Public debts of euro area member states should be guaranteed. Member States should be able to run the fiscal policy relevant in their macroeconomic situation, while fulfilling the inflation target set by the ECB. Member States should be requested to change their fiscal policy only if the latter is harmful to partner countries.
Après la crise sanitaire, les dettes publiques des pays de la zone euro s'établiront en moyenne à 100 % du PIB. Les règles budgétaires de l'UE, suspendues pendant la crise, ne peuvent être remises en vigueur telles quelles. Leur réforme sera discutée en 2022. La section 2 discute le principe des règles budgétaires, en particulier européennes. La section 3 analyse les différents projets de réforme. Un certain consensus semble se faire sur une règle de contrôle des dépenses publiques dont la croissance devrait être inférieure à celle du PIB nominal, de façon à ramener le ratio dette publique/PIB vers 60 %. Cette règle ne permet pas une stabilisation macroéconomique satisfaisante, n'a pas de long terme garanti et ne respecte pas l'autonomie des politiques budgétaires nationales. La section 4 développe une proposition inspirée par la finance fonctionnelle. Les dettes publiques des pays de la zone euro doivent être garanties ; ceux-ci doivent pouvoir pratiquer les politiques budgétaires requises par leur situation macroéconomique, tout en respectant l'objectif d'inflation de la BCE. Ils ne doivent être tenus de changer de politique que si elle nuit à leurs partenaires.
Fichier principal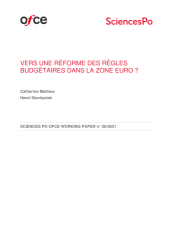 OFCEWP2021-26.pdf (427.35 Ko)
Télécharger le fichier
Origin : Publisher files allowed on an open archive