L'entretien biographique comme interaction. Négociations, contre-interprétations, ajustements de sens
In French sociology, the biographically-orientated interview is a particularly valued method. However, methodological reflection on the part of sociologists too often takes far too little notice of the most basic aspects of the interview situation. The precepts of benevolence and neutrality are not taken into account in conducting the interview, while characterising the power relationship during the interview as one of domination throws insufficient light on the interpretation of the situation by each of the protagonists. This article seeks a new approach by considering the biographical interview in the context of its immediate production, through the interaction between sociologist and interviewee. It concentrates on definitions of the situation, exchanges, and adjustments with regard what the participants do. Their discursive and interpretative activity is assessed in three empirical surveys conducted in differentiated groups, which, within specific frameworks, provide the sociologist-interviewer with contrasting interpretations of the interview situation.
Dans la sociologie française l'entretien, à orientation biographique, apparaît comme une méthode particulièrement prisée. Pourtant la réflexivité des sociologues sur cette méthode s'exerce trop souvent à distance des aspects les plus concrets du travail d'enquête. En effet, les préceptes de bienveillance et de neutralité restent à l'écart de la conduite effective de l'entretien, et l'assimilation du rapport d'enquête à une domination est insuffisante pour saisir le travail d'interprétation de la situation par les protagonistes. A rebours, cet article considère l'entretien biographique au plus près de sa production, à travers l'interaction entre le sociologue et l'interviewé. Il met l'accent sur les définitions de situation, les échanges et les ajustements portant sur ce que les participants font. Leur activité, discursive et interprétative, est saisie à partir de de trois enquêtes empiriques menées auprès de populations différenciées, qui proposent au sociologue interviewer, selon des modalités spécifiques, des interprétations contrastées de la situation d'enquête.
Fichier principal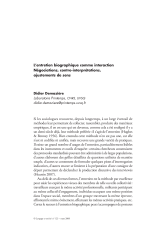 2008-demaziere-lentretien-biographique-comme-interaction.pdf (238.29 Ko)
Télécharger le fichier
Origin : Publisher files allowed on an open archive