Nosotros y los otros: la alteridad en los sitios web de la extrema derecha en Francia
This article studies political interactions on the Internet. It is problematic to draw a line between online and offline reality, but the Internet is still a privileged source to study the discourse of extreme rights and identity policy. The text addresses this approach: firstly, because it represents a terrain to create solidarity through the dissemination and exchange of information that is broader than traditional arenas (Dijk and Hacker, 2003). In fact, unlike other media such as television, radio and / or the press, the Internet represents a part of the public space to which access is easier (Dahlgren, 2000). And secondly, because any Internet user can take the floor, whatever their powers in politics or their opinions, in the same way that they can disseminate opinions that have no legitimacy in the institutional public sphere.
El presente artículo estudia las interacciones políticas en Internet. Es problemático trazar una línea entre la realidad online y offline, pero Internet sigue siendo una fuente privilegiada para estudiar el discurso de las derechas extremas y la política de identidad. El texto aborda este enfoque: en primer lugar porque, éste representa un terreno para crear solidaridad a través de la difusión y el intercambio de información que es más amplio que las arenas tradicionales (Dijk y Hacker, 2003). De hecho, a diferencia de otros medios tales como la televisión, la radio y/o la prensa, Internet representa una parte del espacio público al que el acceso es más sencillo (Dahlgren, 2000). Y en segundo lugar, porque cualquier internauta puede tomar la palabra, sean cuales sean sus competencias en política o sus opiniones, de la misma forma que puede difundir opiniones que no tienen legitimidad en la esfera pública institucional.
Fichier principal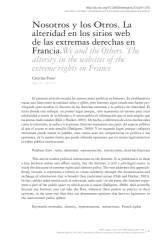 2020-froio-designis-i31p241-270.pdf (399.74 Ko)
Télécharger le fichier
Origin : Publisher files allowed on an open archive