The Laval case and the future of labour relations in Sweden
Together with a series of related ECJ cases (Viking, Rüffert), the Laval case became famous as a new display of the struggle between economic freedoms and social rights in the EU. But the European controversy is only one part of the story. Focusing on the Laval case, this article goes back to the place where it all started – Sweden – and tries to shed light on the missing link between the European controversy over posted workers and the challenges that the Swedish labour model is currently facing. The Swedish labour relations system has now to cope with legal uncertainty while the government, the employers and the Trade Unions are increasingly struggling over labour regulation. Beyond its juridical aspects, the Laval case is thus a landmark political event, as it unveils and increases the turmoil of the Swedish autonomous labour relations. It thus displays a new opportunity for reforming industrial relations and labour regulations in Sweden, in a time when they are as much pressured at home as they are admired abroad.
L'affaire Laval, liée à une série d'affaires de la CJCE (Viking, Rüffert), a été rendue célèbre à travers l'Europe comme étant un nouvel avatar des contradictions entre libertés économiques et droits sociaux. Mais la dimension européenne n'est qu'une partie de la controverse et cet article met en lumière les liens entre d'une part les débats européens sur les travailleurs détachés et d'autre part les enjeux qu'affronte le modèle suédois de relations industrielles. Au-delà de ses aspects juridiques, l'affaire Laval est un évènement politique majeur en Suède, puisqu'elle met en exergue et accentue les difficultés du système autonome de régulation du marché du travail par les partenaires sociaux. Elle offre en effet de nouvelles opportunités pour réformer les relations industrielles et les règlementations salariales, elles-mêmes qui sont autant menacées en Suède qu'admirées à l'étranger.
Fichier principal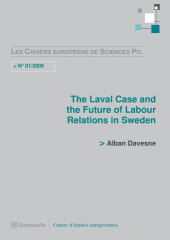 2009-davesne-the-laval-case-and-the-future-of-labour-relations-in-sweden.pdf (204.29 Ko)
Télécharger le fichier
Origin : Publisher files allowed on an open archive