Le crédit à la consommation dans la bancarisation
The bank laws of 1966-1967, called the "Debré Acts", triggered a spectacular development in French banking services (bancarization). Retail banks developed a package of new products for millions of new customers. This article focuses on one of these products, namely consumer credit. Before bancarization, retail banks did not sell consumer credit. Instead they owned subsidiary companies which specialized in installment credit linked to mass sellers such as department stores. Nevertheless French bankers were already extremely interested in consumer credit, and closely analyzed American banking practices. The Debré Acts created a huge increase in the amount of credit available. Retail banks specialized in money lent to customers without any questions asked concerning to what purposes it would be put. The development of consumer credit led banks to create sophisticated statistical systems which were used by marketing departments to segment consumers. Finally, this article focuses on consumer associations, presenting them as at first curious and interested in but ultimately critical of consumer credit.
Les lois bancaires de 1966-1967, dites « lois Debré », ont provoqué le mouvement de bancarisation de la population française : les Français ont ouvert massivement des comptes. Les banques ont alors développé de nouveaux services pour les particuliers, parmi lesquels le crédit à la consommation. Cet article s'intéresse à la façon dont le crédit à la consommation a fait son entrée dans la gamme des produits vendus en masse par les banques de détail. Avant la bancarisation, les banques ne distribuaient pas de crédit à la consommation mais disposaient de filiales spécialisées dans la vente à tempérament, proposant des crédits associés à des achats, en général sur les lieux de vente. Toutefois dès cette époque, les banquiers réfléchissaient à ce mode de financement, observant en particulier les pratiques américaines. Après les lois Debré, les encours de crédit s'envolèrent rapidement et les banques se spécialisèrent dans le prêt personnel. Cette multiplication de prêts conduit ces dernières à développer des techniques de sélection statistiques qui très rapidement seront utilisées par les services marketing à des fins de segmentation et de profilage. Pour terminer, l'article observe la façon dont le crédit à la consommation a été reçu par les associations de consommateurs, d'abord curieuses et intéressées mais rapidement critiques.
Fichier principal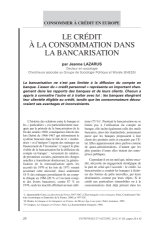 eh-059-0028.pdf (272.68 Ko)
Télécharger le fichier
Origin : Publisher files allowed on an open archive