Noter pour ajuster. Le travail de la scripte sur un plateau de tournage
The act of shooting a film is characterised by discontinuity in the production stages and numerous unpre-dictable events, as well as a host of unscheduled initiatives and the emergence of disputes arising fromcreative experiment. It is the task of the script supervisor to maintain the "film continuity", which governsthe quality of the editing and the plausibility of the final screen product. This demands intense scriptingactivity to maintain a record of the production stages. These writings are the "effective" trace of a complexactivity that achieves its full meaning in the dense but discreet relational work arising out of the scriptingprocess. We will show how, in a fragile organization such as cinema, cooperation in work can be perceivedas a metrological activity of adjustment that contributes to the creative process.© 2014 Elsevier Masson SAS. All rights reserved.
Le tournage d'un film est caractérisé par la discontinuité des étapes de fabrication et la survenue de nombreux aléas, ainsi que par un foisonnement d'initiatives non programmées et l'émergence de controverses liées au tâtonnement créatif. C'est à la scripte qu'incombe la tâche de veiller à la « continuité du film », dont dépend la qualité du montage et la vraisemblance de ce qui sera projeté sur l'écran. Une intense activité scripturale lui incombe alors pour garder en mémoire les étapes de fabrication. Ces écrits sont la trace « utile » d'une activité complexe qui prend tout son sens dans le dense mais discret travail relationnel prolongeant l'activité scripturale. Nous montrerons en quoi, dans une organisation fragile comme celle du cinéma, la coopération au travail peut être pensée comme une activité métrologique d'ajustement participant à l'oeuvre de création. © 2014 Elsevier Masson SAS. Tous droits réservés.
Fichier principal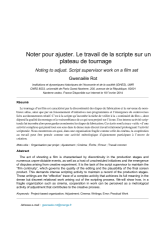 2014-rot-noter-pour-ajuster-vauteur.pdf (1.51 Mo)
Télécharger le fichier
Origin : Files produced by the author(s)