Comment inciter les entreprises à afficher les impacts environnementaux sur les produits de grande consommation ?
The present policy brief analyses a French public policy aiming at encouraging companies to display on labels the environmental impacts of their products. This public policy was initiated in 2009 after President Sarkozy's election but has recently been reactivated in 2018 when the government decided a national implementation within five industries. The public policy was seriously contested by economic actors, which considered product environmental assessment as too costly and based on insufficiently stabilized knowledge. Today, consumer information public policies are becoming increasingly common: nutritional labelling, environmental footprint labelling, energy labels, product lifetime labelling. How can these public policies, which have limited financial, political and legal resources, achieve any efficiency to convince corporations to engage in changes they are reluctant to make? We demonstrate that this public policy relies on a weak coercive legislative basis but with strong capacity to modify the interests of some of the private actors. We also show how public deciders make strong allies within different types of economic actors, in order to activate levers through competition dynamics or supply chains relationships. This public-private public policy instrument building process contributes to strengthen the capacity of the public policy. Finally, we question the stakes and critical points of this public policy, which has not achieved a widespread implementation so far, but has demonstrated its ability to engage companies in environmental improvements.
Ce policy brief analyse la politique publique française en matière d'affichage environnemental. Cette politique publique a été initiée en 2009 à la suite du Grenelle de l'Environnement et a été réactivée en 2018 dans le cadre d'une action de déploiement sur cinq secteurs économiques. L'objectif de cette politique publique est d'encourager les entreprises à afficher les impacts environnementaux des produits qu'elles mettent en marché. Elle se heurte à d'importantes résistances du monde économique qui se montre réticent à s'engager dans des actions d'évaluation des impacts environnementaux jugées à la fois coûteuses à mettre en œuvre et insuffisamment stabilisées sur un plan technique. A l'heure où les politiques d'affichage sur les produits tendent à se multiplier (affichage nutritionnel, affichage énergie, affichage carbone, affichage sur la durée de vie), nous revenons sur les spécificités d'une action publique, faiblement dotée en ressources financières, politiques ou légales, qui cherche à inciter les entreprises à plus de responsabilité. Nous montrons que cette politique publique repose sur un socle législatif faiblement coercitif mais susceptible de faire évoluer les intérêts de certains acteurs privés. Nous suggérons que les pouvoirs publics construisent des alliances stratégiques avec certains acteurs privés afin d'activer des leviers au sein des rapports de concurrence ou des rapports de force marchands susceptibles de produire des effets d'entrainement. C'est précisément la co-construction publique-privée de cette politique publique qui la rend acceptable pour le monde économique. Nous revenons sur les enjeux et points critiques d'une politique publique, qui, même si elle n'est pas encore généralisée, a montré une certaine efficacité dans sa capacité à mobiliser les entreprises.
Fichier principal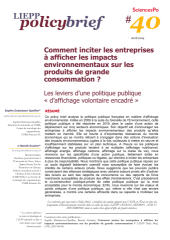 liepp-pb-40-dubuisson-quellier-granier.pdf (969.66 Ko)
Télécharger le fichier
Origin : Publisher files allowed on an open archive