Que pensent les travailleur.se.s du sexe de la loi prostitution
WHAT DO SEX WORKERS THINK ABOUT THE FRENCH PROSTITUTION ACT? A Study on the Impact of the Law from 13 April 2016 Against the 'Prostitution System' in France -- The main objective of this study is to assess the impact on sex workers' living and working conditions of the act of law n° 2016-444 (adopted by France's parliament on the 13th of April 2016 with the aim of reinforcing the fight against the prostitution system and supporting people in prostitution). This is a qualitative study focused on the viewpoints of sex workers themselves who are directly affected by the law. For the purposes of this analysis interviews were conducted with 70 sex workers (a further 38 sex workers were consulted via focus groups and workshops). A further 24 interviews and focus groups were conducted with sex worker groups or other organisations working with sex workers across France. Two researchers (in political science and sociology) supervised the study and analysed the results in close collaboration with 11 outreach organisations. Alongside this qualitative study, a quantitative survey was also conducted between January and February 2018 involving 583 sex workers the results of which were integrated into this report.
Le 13 avril 2016, la France adoptait la loi « visant à renforcer la lutte contre le système prostitutionnel et à accompagner les personnes prostituées », devenant ainsi le deuxième pays de l'Union européenne à sanctionner les clients des travailleur.se.s du sexe. Depuis, deux chercheurs, Hélène Le Bail et Calogero Giametta, en collaboration avec 11 associations ont mené une enquête afin de documenter les impacts de cette nouvelle législation sur la santé, les droits et les conditions de vie des travailleur.se.s du sexe en France. Cette enquête est disponible en français, en anglais et en italien. Des synthèses du rapport sont également disponibles en français, anglais, portugais et russe.
COSA PENSANO LE LAVORATRICI E I LAVORATORI DEL SESSO DELLA LEGGE SULLA PROSTITUZIONE? Inchiesta sull'impatto della Legge del 13 aprile 2016 contro il «sistema prostituzionale» in Francia -- L'obiettivo principale di questo studio è quello di valutare l'impatto della legge francese n° 2016- 444 (Legge del 13 aprile 2016 volta a rinforzare la lotta contro il sistema prostituzionale e ad accompagnare le persone che si prostituiscono) sulle condizioni di vita e di lavoro delle lavoratrici e dei lavoratori del sesso. Si tratta di un'inchiesta qualitativa basata sul punto di vista delle lavoratrici e dei lavoratori del sesso direttamente interessate/i e colpite/i da questa legge. In questa inchiesta sono state realizzate, tra il giugno 2016 e il febbraio 2018, 70 interviste individuali con delle lavoratrici e dei lavoratori del sesso (38 sono state consultate/i attraverso focus group e atelier), ed inoltre 24 interviste e focus group con associazioni di lavoratrici/lavoratori del sesso o che lavorano con lavoratrici/lavoratori del sesso attraverso la Francia. Una ricercatrice ed un ricercatore (in scienze politiche e sociologia) hanno supervisionato la ricerca in cooperazione con 11 associazioni che lavorano sul campo e hanno condotto l'analisi delle interviste. Parallelamente, un'inchiesta quantitativa è stata realizzata nel gennaio-febbraio 2018 alla quale hanno preso parte 583 lavoratrici/ lavoratori del sesso e i cui risultati completano l'inchiesta qualitativa.
O QUE PENSAM OS/AS TRABALHADORES/AS DO SEXO DA LEI FRANCESA QUE REGULA A PROSTITUIÇÃO? Estudo sobre o impacto da lei promulgada a 13 de abril de 2016, que penaliza o "sistema prostitucional" em França -- O principal objetivo deste estudo é avaliar o impacto da lei nº 2016-444 (adotada pelo parlamento francês a 13 de abril de 2016, com o intuito de combater o 'sistema prostitucional' e apoiar as pessoas prostituídas) nas condições de vida e trabalho dos/as trabalhadores/as do sexo (TS). Trata-se de um estudo qualitativo focado nas opiniões das próprias pessoas que fazem trabalho sexual e que são diretamente afetadas pela legislação. Para efetuar esta análise, foram conduzidas 70 entrevistas a trabalhadores/ as do sexo (e recolhidas informações de outros/as 38 que participaram em focus groups e workshops). Foram também realizadas 24 entrevistas e focus groups com associações de TS e/ou organizações que trabalham com TS em França. Dois investigadores (Ciências Políticas e Sociologia) supervisionaram o estudo e analisaram os resultados do mesmo, em cooperação com 11 organizações que desenvolvem trabalho de proximidade. Foi também realizado, entre janeiro e fevereiro de 2018, um estudo quantitativo com 583 trabalhadores/as do sexo – cujos resultados são apresentados no presente relatório.
ЧТО ДУМАЮТ СЕКС-РАБОТНИЦЫ/КИ ПО ПОВОДУ ФРАНЦУЗСКОГО ЗАКОНА О ПРОСТИТУЦИИ? Исследование последствий закона от 13 апреля 2016 года против «системы проституции» -- Основной целью данного исследования является оценка влияния закона 2016-444 (Закон от 13 апреля 2016 года по усилению борьбы против системы проституции и поддержке людей, занимающихся про- ституцией) на условия жизни и работы секс-работниц/ков1. Это качественное исследование мнений секс-работниц/ков, которых непосредственно касается данный закон. В период с июня 2016 года по фев- раль 2018 года было проведено 70 индиви- дуальных интервью с секс-работницами/ ками (помимо них, 38 были опрошены в ходе фокус-групп и семинаров) и 24 интервью и фокус-группы с ассоциациями секс-работ- ниц/ков или организациями, работающими совместно с секс-работницами/ками во Франции. Два исследователя (в области политологии и социологии) руководили исследованием в тесном сотрудничестве с 11 ассоциациями, занятыми полевой работой, и провели анализ интервью. Параллельно с этим, в январе-феврале 2018 года было проведено количественное исследование, на вопросы которого отве- тили 583 секс-работниц/ка, что дополнило качественное исследование.
Fichier principal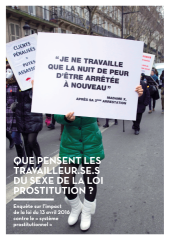 2018-04-le-bail-mdm-rapport-prostitution.pdf (2.06 Mo)
Télécharger le fichier
Origin : Publisher files allowed on an open archive