Une institution sans intention. La sociologie en France depuis l'après-guerre
The paid exercise of sociology has undergone far-reaching changes in France since 1945. Forms of paid practice are analyzed using partially unpublished documents on the ways in which public research is organized, on the characteristics and career paths of the students, on the journals and associations through which the life of the discipline is expressed. Three periods are identified. Full-time empirical research became organized in France around 1950, in the context of the CNRS, at the instigation in particular of G. Friedman. The scholarly definition of the discipline which prevailed in universities began ebbing with the creation, in 1958, of the licence in sociology, which opened the way to a professional practice outside the academic world. Sociology's institutional base continued to grow in the area of research with the multiplication of professional journals, and in the area of secondary education with the creation, in 1976, of the social sciences agrégation, a competitive examination in which sociology, together with economics, is one of the principal subjects. The third phase, which began in the 1970s, can be described as the teachers' era. Taken up by the university of the masses, sociology is one of the «refuge-disciplines» in which resistance to elitism is on the whole still alive and well. This trend weakens the prospects for the professionalization of sociology diplomas.
Les formes de l'exercice rémunéré de la sociologie ont connu en France d'amples transformations depuis 1945. Elles sont analysées à l'aide d'une documentation partiellement inédite sur les formes d'organisation de la recherche publique, sur les caractéristiques et les parcours des étudiants, sur les revues et associations par le canal desquelles s'exprime la vie de la discipline. Trois périodes sont distinguées. La pratique de la recherche empirique à temps plein s'organise en France vers 1950 dans le cadre du CNRS, sous l'impulsion notamment de G. Friedmann. La définition livresque de la discipline qui prévalait au sein de l'Université reflue avec la création en 1958 de la licence de sociologie qui ouvre sur un exercice professionnel en dehors du monde académique ; le renforcement de l'assise institutionnelle de la sociologie se poursuit dans le domaine de la recherche avec la multiplication des revues scientifiques, dans celui de l'enseignement secondaire avec la création en 1976 de l'agrégation de sciences sociales, concours dont la sociologie est, avec l'économie, une des matières principales. La troisième phase qui s'amorce au cours des années 1970 peut être décrite comme l'ère des enseignants : embarquée dans l'université de masse, la sociologie fait partie des « disciplines-refuges » au sein desquelles la résistance à l'élitisme est dans l'ensemble assez vive. Cette orientation affaiblit les perspectives de professionnalisation des diplômés de sociologie.
Fichier principal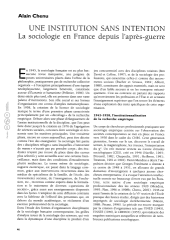 2002-chenu-une-institution-sans-intention.pdf (4.89 Mo)
Télécharger le fichier
Origin : Publisher files allowed on an open archive