Le médicament générique et la relation de soin : Sociologie d'un quiproquo
Generic drugs, introduced on the French drug market in the late 1990s, have deeply affected relations between patients, doctors and pharmacists. Pharmacists and patients are now able to choose the brand of drugs. Comparing the prescribed drug with its generic equivalent, far from being automatic, involves evaluating products and, too, the prescriptions for them. Can one drug be taken for another? Is one prescriptionist the equivalent of another? Some persons claim that there is a generalized equivalence between drugs and those who prescribe them, whereas others try to maintain the older hierarchy of values. The quid pro quo introduced by generic drugs is a litmus test for analyzing the values that shape the behavior patterns of those involved in health and the organization of care.
L'introduction des médicaments génériques sur le marché français des médicaments à la fin des années 1990 a profondément modifié la relation qui unissait les patients, les médecins et les pharmaciens. Désormais, les pharmaciens et les patients ont la possibilité de choisir, aux côtés du médecin, la marque du médicament. Mais la comparaison entre le médicament original et sa copie, loin d'aller de soi, suppose d'attribuer une valeur aux produits et aux différentes prescriptions qui structurent cette comparaison : peut-on prendre un médicament pour un autre ? Peut-on prendre un prescripteur pour un autre ? Alors que certains acteurs promeuvent une équivalence généralisée entre les médicaments et entre les prescripteurs, d'autres tentent de maintenir l'ancienne hiérarchie des valeurs. Le quiproquo introduit par les médicaments génériques sert donc de révélateur pour analyser les valeurs qui structurent les comportements des acteurs de santé et l'organisation de la relation de soin.
Fichier principal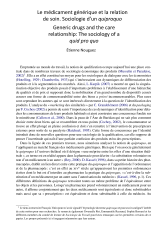 1-s2.0-s003802960800143x-main.pdf (231.14 Ko)
Télécharger le fichier
Origin : Files produced by the author(s)