ATAKA : les raisons du succès d'un parti nationaliste radical en Bulgarie
[A Radical Nationalist Party in Bulgaria: Ataka or the Tribulations of Post-Communism] Ataka's victory in the June 2005 legislative elections came as a surprise. This nationalist coalition borrows its platform both from the extreme right (anti-Turk and anti-Roma sentiments) and the extreme left (anti-Americanism, nostalgia for an authoritarian socialist state) while cultivating a degree of anti-Semitism. Two months earlier, Bulgaria had signed its Accession Treaty to the European Union. With a steady growth rate, rising foreign investment and the gradual catching-up of the new middle class' incomes, the country seemed about to complete its post-communist "transition." What does the emergence of a radical political group signify this late in the course of change? Volen Siderov's party scores first of all translate the rejection of a political class accused of defending individual interests at the expense of the common good. This success also reflects the tensions caused by the brutal post-communist transformations and the disorientation that has accompanied them. Last of all, they indicate frustrations with respect to an international community (the IMF, the United States and the European Union) that has obliged the country to enact unpopular measures in the name of standards that it often disregards itself. It would be unwise to turn a deaf ear to the questions raised by Ataka. Notwithstanding Siderov's electoral gains, these issues are due to remain in the public space for a certain time.
Aux élections législatives de juin 2005, le succès d'Ataka - une coalition nationaliste dont le discours emprunte à l'extrême droite (sentiments anti-turcs, anti-roms) et à l'extrême gauche (anti-américanisme, nostalgie d'un État social et autoritaire) tout en cultivant un certain antisémitisme - a surpris. Deux mois plus tôt, la Bulgarie avait signé le Traité d'adhésion à l'Union européenne. Avec une croissance soutenue, des investissements étrangers en hausse et un progressif rattrapage des revenus des nouvelles classes moyennes, le pays semblait en passe de clore sa « transition » postcommuniste. Comment comprendre l'apparition d'une formation radicale aussi tardivement dans le cours des changements ? Les résultats du parti de Volen Siderov expriment, au premier chef, le désaveu d'une classe politique accusée de défendre des intérêts particuliers au détriment du bien commun. Ils reflètent également les tensions provoquées par les brutales transformations postcommunistes et la perte de sens qui les a accompagnées. Ils désignent enfin les frustrations par rapport à une communauté internationale (le FMI, les États-Unis, l'Union européenne) qui a imposé l'adoption de politiques impopulaires au nom de standards qu'elle ne s'applique souvent pas à elle-même.
Fichier principal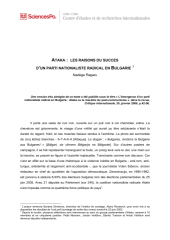 2006-ragaru-ataka.pdf (373.78 Ko)
Télécharger le fichier
Origin : Publisher files allowed on an open archive