Sur les dynamiques sociologiques et politiques de l'identification à l'Europe
The European Community has always – that is, since its beginning – given cause for concern regarding its ability to arouse a feeling of belonging, strong enough to establish the legitimacy of its political system. Many explanations have been given for this weakness. The idea that the commitments of Europeans to their nation form a screen between them and Europe is very widespread, especially since the ratification of the Maastricht's Treaty. The database available to test this hypothesis is difficult to use, because of the many changes of wording having occurred since 1994. Nevertheless, it shows a very interesting electoral effect : far from the periods of sustained public debate on Europe, no antagonism can be measured between the variables of commitment to Europe and to its nations ; while a negative relationship appears between belonging to Europe and national pride during the European electoral campaigns. This contextual effect can be interpreted as a consequence of the bi-dimensional character of the territorial commitments of the Europeans, which combine a political logic of choice between elites and citizenries partially competitive, and a sociological logic of belonging to any available imaginary community.
Depuis les débuts de son existence, la Communauté Européenne suscite des inquiétudes quant à sa capacité à faire naître un sentiment d'appartenance de nature suffisamment forte pour asseoir la légitimité de son système politique. Au nombre des explications de la faiblesse de ce qu'on ose à peine désigner comme une « identité » européenne, l'idée que les attachements des Européens à leurs nations respectives feraient écran au développement de cette nouvelle identification figure en bonne place, surtout depuis la ratification du traité de Maastricht. Les données dont on dispose pour tester la validité de cette hypothèse à l'échelle de l'Europe – les enquêtes de l'Eurobaromètre – rendent les choses difficiles à traiter du fait des changements survenus depuis 1994 dans la formulation des questions. Néanmoins, il est possible de faire apparaître un effet de contexte électoral tout à fait intéressant : loin des périodes où le débat public autour de l'Europe est particulièrement soutenu, on n'observe aucun antagonisme dans les mesures d'attachement à l'Europe et à ses nations, alors qu'au moment des consultations européennes, notamment, on observe bien un tel antagonisme. Cet effet de contexte peut être interprété comme la conséquence de la bi-dimensionnalité des attachements territoriaux des Européens, combinant logique politique de choix entre des élites et des communautés politiques pour partie concurrentielles, et logique sociologique d'appartenance à des collectifs imaginaires.
Fichier principal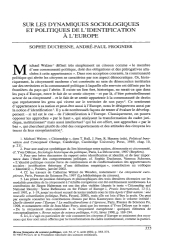 2002-sur-les-dynamiques-sociologiques.pdf (2.53 Mo)
Télécharger le fichier
Origin : Publisher files allowed on an open archive