De la friture sur la ligne des réformes
[Crackling on the lines of reform. The liberalization of telecommunications in Morocco] The liberalization of telecommunications in Morocco is closely linked to the royal succession, partly for chronological reasons, and partly because it reveals the workings of a political transition that was desired at the top and received a large consensus. The triumph of "transparency" evident in the relative success of the process and the consistency of the accompanying legislation with international norms cannot, however, conceal the persistence of ways of working inherited from the previous era, with the overwhelming predominance of royal power, the partly deliberate creation of legal and administrative loopholes making way for arbitrary intervention, the continuation of secrecy and informal relations that are at the very heart of the Makhzen. The result is a sometimes paradoxical interplay of tensions in which actors end up in spite of themselves playing the opposite role from what could have reasonably been expected.
La libéralisation des télécommunications au Maroc est intimement mêlée à la succession dynastique, d'une part par sa chronologie, d'autre part parce qu'elle révèle les modalités d'une transition politique voulue d'en haut et consensuelle. La victoire de la " transparence " que représente son relatif bon déroulement et la conformité aux normes internationales de la législation qui l'accompagne ne peuvent toutefois cacher la persistance de modes de fonctionnement hérités de la période antérieure, avec l'écrasante prédominance du Palais, l'aménagement, en partie délibéré, de vides juridiques et d'interstices administratifs autorisant l'intervention de l'arbitraire, la persistance du secret et des relations non formelles qui sont au cœur même du Makhzen. Il s'ensuit un jeu de tensions parfois paradoxal, où des acteurs en viennent à jouer malgré eux un rôle opposé à celui que tout laisserait prévoir.
Fichier principal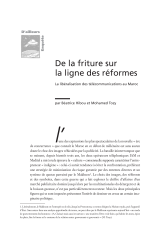 ci14p91-118.pdf (146.03 Ko)
Télécharger le fichier
Origin : Explicit agreement for this submission