Mémoire et amnésie : les fondateurs de la République américaine, Montesquieu et le modèle politique romain
Memory and amnesia. The founders of the American republic, Montesquieu and the roman political model - Searching for a new identity, the founders of the American Republic started ont by identifying with Rome and its heroes such as Cincinnatus, Brutus and Publicola. But the Roman model, rediscovered by reading Montesquieu, was problematic : the Republic was possible only on a small territory. Some critics of the 1787 federal constitution, e.g. Brutus, seized upon Montesquieu's arguments to discredit the work of the Philadelphia constituents, who reacted by literally turning Montesquieu upside down. The Republic, they claimed, was concevable only on a large territory, within a federal framework. The return to Antiquity advocated by the anti-federalists was absurd and dangerous, especially as the ancient city knew nothing of the great founding principle of the American Republic : the representative regime. That is probably why the ideologue Destutt de Tracy, Montesquieu's toughest critic and the impassioned defender of the "refusal of Rome ", was elevated to the rank of America's "philosopher " by Jefferson, his translater and admirer.
A la recherche d'une identité nouvelle, les fondateurs de la République américaine n'hésitèrent pas, dans un premier temps, à s'identifier à Rome et à ses héros, tels Cincinnatus, Brutus, et Publicola. Mais le modèle romain, redécouvert à la lecture de Montesquieu, était problématique : la République n'était possible que sur un petit territoire. Des critiques de la Constitution fédérale de 1787, comme Brutus, s'emparèrent des arguments de Montesquieu pour discréditer l'œuvre des constituants de Philadelphie. Ces derniers réagirent en mettant littéralement Montesquieu la tête à l'envers. La République, prétendirent-ils, n'était concevable que sur un grand territoire, dans un cadre fédéral. Le retour à l'antique prôné par les antifédéralistes était absurde et dangereux, d'autant plus que la cité antique ignorait tout du grand principe fondateur de la République américaine : le régime représentatif. C'est sans doute pourquoi l'idéologue Destutt de Tracy, le plus sévère des critiques de Montesquieu et l'avocat passionné du " refus de Rome ", est érigé au rang de " philosophe " de l'Amérique par Jefferson, son traducteur et admirateur.
Fichier principal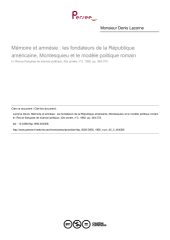 article-rfsp-0035-2950-1992-num-42-3-404308.pdf (1.33 Mo)
Télécharger le fichier
Origin : Explicit agreement for this submission