Age and Transformations of the Labour Market: the Case of Central Europe (Poland, the Czech Republic, Hungary)
Various mechanisms, including lower productivity, discrimination and composition effects, have been cited to explain the disadvantaged position on the labor market of young people, women, and persons nearing the end of their working life. This article relies on two hypotheses. First we adopt the perspective of life cycle theory, therefore this phenomenon is understood as a consequence of giving priority on the job market to middle-aged fathers. Second we consider that having a job and the level of earnings are two different dimensions of the labor market and of the way people can be advantaged or disadvantaged. In the case of the Czech Republic, Poland and Hungary in the period running from the 1980s to the early 2000s, the arrangements made vary in time and by country, as is shown by employment chances and earnings for a variety of groups, corresponding here to the life stages of youth, motherhood or fatherhood, and old age. This information brings to light which groups are disadvantaged and in what way. The configurations observed change with the countries' economic and socio-political situations, becoming more diverse by country at the end of the period. Older workers appear excluded from the labor market in Hungary; young people in Poland are integrated but paid relatively low wages; in the Czech Republic, where employment rates are relatively high, mothers are less likely to work.
Pour expliquer le désavantage des jeunes, des femmes et des travailleurs âgés sur le marché du travail, on cite généralement leur plus faible productivité, des attitudes discriminatoires ou des effets de composition et de cumul des handicaps. Cet article adopte une perspective différente, celle du cycle de vie. Ainsi les difficultés rencontrées par les jeunes, les mères ou les travailleurs en fin de carrière sont reliées à la priorité donnée aux pères âgés de 35-40 ans. En outre, nous prenons en compte deux dimensions des inégalités sur le marché du travail : les rémunérations et les chances d'avoir un emploi. Nous nous demandons donc quel groupe est le plus désavantagé, et de quelle façon, en République Tchèque, en Pologne et en Hongrie, depuis les années 1980 jusqu'au tournant du 21ème siècle. Les arrangements qui permettent de préserver les chances des pères de 35 ans sur le marché du travail ont varié selon la situation économique et le régime politique, et ils deviennent plus variés d'un pays à l'autre à la fin des années 1990. En Hongrie les travailleurs âgés sont de plus en plus exclus du marché du travail, les jeunes polonais sont intégrés mais au prix de rémunérations faibles, tandis qu'en République Tchèque où le taux d'emploi est relativement élevé, ce sont les mères qui sont le plus en retrait.
Fichier principal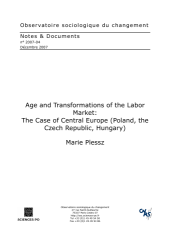 Marie_Plessz.pdf (275.72 Ko)
Télécharger le fichier
Origin : Files produced by the author(s)