L'expérience de la mobilité sociale ascendante : les deux visages de la réussite sociale
This article questions the existing theories on the experience of upward social mobility. In order to understand the identity transformations implied by the social status change, the author uses qualitative material consisting of interviews with persons having experienced upward social mobility. The aim is to take into account in the analysis the "two sides of social success": the costs implied by social mobility, but also the benefits of such a status change. The author proposes to place at the centre of the study the question of the tension between the origin group and the arrival group. He clarifies the different modes of adaptation to this tension by a typology. Such an approach puts into question the idea that a change in social status is necessarily accompanied by a radical identity change.
Cet article questionne les théories sur l'expérience de la mobilité sociale ascendante. Pour définir une perspective théorique permettant de prendre en compte la complexité des transformations identitaires qu'implique le changement de statut social, l'auteur s'appuie sur ses travaux qualitatifs. Il s'agit notamment d'intégrer dans l'analyse les "deux visages de la réussite sociale": les coûts, souvent psychologiques, qu'implique la réussite, mais aussi les bénéfices retirés de l'expérience de mobilité ascendante. L'auteur propose de placer au centre de l'analyse la question de la tension entre le milieu d'origine et le milieu d'arrivée, et de clarifier par une typologie la diversité des modes d'adaptation à cette tension. Une telle approche remet en cause l'idée selon laquelle un changement de statut s'accompagne nécessairement d'un changement identitaire radical.
Fichier principal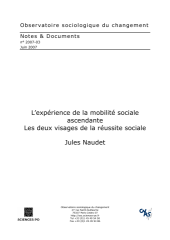 Jules_Naudet.pdf (721.88 Ko)
Télécharger le fichier
Origin : Files produced by the author(s)