Asambleas agrarias y comunitarias en el sureste mexicano: claroscuros de la participación colectiva sobre proyectos eólicos
Ejido and Community Assemblies in Southeastern Mexico: Contrasts in Participation and Collective Decision-Making on Wind Power Projects -- In 2019, half of the national territory was social property. In this territory there are important attractive natural resources for private investment. Most of the mega-projects in Mexico are developed in these communal lands, but entre-preneurs and governments promoting these projects must negotiate via the agrarian assemblies. Successful or unsuccessful attempts to implement wind farms on ejidal or communal lands in Oaxaca and Yucatan raise the following questions: what kind of participating institutions are the agrarian and commu-nity assemblies? To what extent do they allow for deliberation and consensus regarding megaprojects on socially owned lands?
En 2019, la mitad del territorio nacional era propiedad social. En este territo-rio hay importantes recursos naturales atractivos para la inversión privada. La mayoría de los megaproyectos en México se desarrollan en estos terrenos ejidales o comunales, pero los empresarios y gobiernos que los promueven deben pasar por las asambleas agrarias para obtener su aprobación. El nue-vo instrumento de participación, la consulta previa, se apoya en estas asam-bleas. Los intentos exitosos o fallidos de la implantación de parques eólicos en tierras ejidales o comunales en Oaxaca y Yucatán nos plantean las si-guientes preguntas: ¿qué tipo de instituciones de participación son las asam-bleas agrarias y comunitarias? ¿Hasta qué punto permiten la deliberación y el consenso respecto de los megaproyectos en tierras de propiedad social?
Fichier principal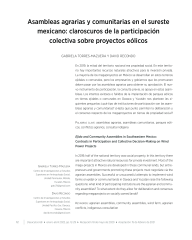 2483-Texto del artículo-5030-1-10-20220419.pdf (3.04 Mo)
Télécharger le fichier
Origin : Publisher files allowed on an open archive