L'atelier de méthodes de Sciences Po : apprendre, aider, rassembler
The digital turn is changing our society, and the production of knowledge in the humanities and social sciences. To disseminate their expertise in digital methods, research engineers at Sciences Po created in 2013 a monthly methods workshop open to everyone: the METAT. The participants (researchers, students and others) sign up for a 3-hour session, and present their issue – which can be technical or methodological – to a team of supervisors from diverse backgrounds and profiles providing support that is as individualised as possible. In this article, we will explain the organisation and founding values of the METAT, as well as give our feedback as supervisors and organisers. This description will be enriched with the analysis of data built from the reports and registration form. We hope this article can give teachers in the humanities and social sciences information on the growing demand for digital training, provide feedback on a project-based digital teaching, and maybe inspire other organisations to create their own methods workshop.
La transition numérique transforme nos sociétés et la production de connaissances en sciences humaines et sociales. Pour faire circuler les savoir-faire et la pratique des méthodes numériques, un atelier mensuel d'accompagnement ouvert à tous les publics a été créé en 2013 à Sciences Po : l'atelier de méthodes (METAT). Les personnes souhaitant participer (chercheurs et chercheuses, étudiants et étudiantes…) s'inscrivent pour une séance de trois heures et exposent leur problématique – technique ou méthodologique – à une équipe d'ingénieurs et d'ingénieures de recherche aux profils variés, qui leur apporte l'aide la plus individualisée possible. Dans cet article, nous présentons l'organisation et les valeurs fondatrices du METAT, ainsi que notre retour d'expérience en matière d'encadrement et d'organisation. Nous enrichissons cette description en analysant les données du questionnaire d'inscription à l'atelier et des comptes rendus des séances. L'objectif de cet article est de renseigner les enseignants et les enseignantes en sciences humaines et sociales sur la demande en formation aux méthodes numériques, d'apporter un retour d'expérience sur un enseignement numérique basé sur des projets concrets et, éventuellement, d'inspirer d'autres structures à créer leur propre atelier de méthodes.
Fichier principal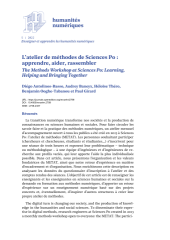 2022_l-atelier-de-methodes-de-sciences-po_revuehn-2799.pdf (467.17 Ko)
Télécharger le fichier
Origin : Publisher files allowed on an open archive