The Evolution of the World Trade Web: A Weighted-Network Analysis.
This paper employs a weighted network approach to study the empirical properties of the web of trade relationships among world countries, and its evolution over time. We show that most countries are characterized by weak trade links; yet, there exists a group of countries featuring a large number of strong relationships, thus hinting to a core-periphery structure. Also, better-connected countries tend to trade with poorly-connected ones, but are also involved in highly-interconnected trade clusters. Furthermore, rich countries display more intense trade links and are more clustered. Finally, all network properties are remarkably stable across the years and do not depend on the weighting procedure.
Il paper utilizza l'analisi delle reti complesse per studiare le propriet`a empiriche della rete formata dagli scambi commerciali tra i diversi paesi, e la sua evoluzione nel tempo. Si trova che la maggior parte dei paesi caratterizzata da legami commerciali deboli. Tuttavia, vi un gruppo di paesi che mostra un gran numero di legami intensi. Questa caratteristica suggerisce l'esistenza di un centro e di una periferia nel sistema. Inoltre, le economie connesse in modo pi intenso al sistema tendono a scambiare beni con quelle periferiche, ma, allo stesso tempo, fanno parte di agglomerazioni in cui il commercio particolarmente intenso. Le economie pi ricche mostrano un grado maggiore sia di integrazione che di agglomerazione. Da ultimo, il lavoro mostra come le propriet della rete degli scambi commerciali siano molto stabili nel tempo e non dipendano dalla particolare procedura di ponderazione.
Fichier principal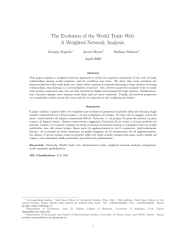 fagiolo-reyes-schiavo.pdf (493.75 Ko)
Télécharger le fichier
Origin : Files produced by the author(s)