Der "Rechtspluralismus". Ein Nachfolgekonflikt im Mittelmeerraum am Ende des 19. Jahrhunderts
A concept seen through an inheritance conflict in late nineteenth-century central Mediterranean
Le « pluralisme juridique ». Au fil d'un conflit de succession en Méditerranée à la fin du XIXe siècle
1887, sechs Jahre nach der Kolonisierung Tunesiens durch Frankreich, verschwand in Florenz ein freigelassener Sklave, der ehemalige Minister der ottomanischen Provinz von Tunis. Durch eine Untersuchung der zahlreichen Konflikte, die um die Nachfolge im Amt entstanden, betrachtet die vorliegende Studie Chancen und Probleme des Konzepts des Rechtspluralismus. Situationen mit zwei oder mehr Rechtssystemen machen komplexe Dynamiken deutlich. Das Konzept zeigt privilegierte juristische Lösungen von Konflikten in Zeiten erzwungener finanzieller Integration mit Europa und wenn legale Identitäten unklar sind. Es zeigt auch eine generelle Neudefinition der juristischen Sphäre, vor allem eine Festschreibung normativer muslimischer Rechtsfelder. Dieses Konzept stellt zudem die Frage nach der Berücksichtigung außerrechtlicher Normen (Staatsdienst, finanzielle Verpflichtungen), nach den Verbindungen zwischen den einzelnen normativen Sphären und nach der Art und Weise, wie mit juristischen Archivalien umzugehen ist.
In 1887, six years after the French colonization of Tunisia, a manumitted slave and former minister of the Ottoman province of Tunis passed away in Florence. By analyzing the many conflicts that erupted around this dignitary's inheritance, this essay assesses the benefits and shortcomings of the concept of legal pluralism. Legal pluralistic contexts, namely situations of coexistence between at least two legal systems, reveal complex historical dynamics within societies transitioning from one imperial domination to another. This concept shows that there is a privileged resolution of conflicts by law in times of forced financial integration with Europe and when legal identities are uncertain. More broadly, it demonstrates a more general redefinition of legal spheres, especially an essentialization of a normative Muslim field. This concept also raises the question of the consideration of extra-judicial standards (e.g., state service, financial commitments), of the links between normative spheres, and of our manner of understanding judicial records.
En 1887, six ans après la colonisation de la Tunisie par la France, disparaissait à Florence un esclave affranchi, ancien ministre de la province ottomane de Tunis. Examinant les multiples conflits qui ont surgi autour de la succession de ce dignitaire, cette étude explore les apports et les limites du concept de « pluralisme juridique ». Les situations de coexistence entre au moins deux systèmes légaux révèlent des dynamiques complexes : à la fois, une formulation privilégiée des conflits par le droit, dans des moments d'intégration financière poussée avec l'Europe et de flottement des appartenances juridiques ; mais aussi une redéfinition plus générale des sphères juridiques, notamment une essentialisation d'un champ normatif musulman. Ce concept pose aussi la question de la prise en compte des normes extra-judiciaires (service de l'État, engagements financiers), des liens entre sphères normatives et de nos manières d'appréhender les archives judiciaires.
Fichier principal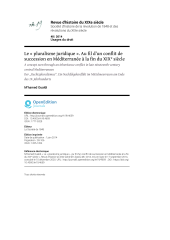 rh19-4659.pdf (199.04 Ko)
Télécharger le fichier
Origin : Publisher files allowed on an open archive