Nigerian confraternities to conquer the world ?
Les confraternités nigérianes à la conquête du monde ?
While the Nigerian brotherhoods have become increasingly prominent in the media given the criminal threat they are said to represent, they have not been the subject of any field research in Nigeria or Europe. This media coverage is fueling a growing confusion between the legal and police categorizations that are used to define these brotherhoods and the pan-African practices and discourses of solidarity and emancipation that they promote. The socio-historical approach developed in this study makes it possible to put into perspective the global expansion of confraternities since the 2000s. It offers another perspective on the role of these secret societies and their inclusion in political economies and different territories. In Europe, the Nigerian confraternities are first and foremost social institutions for the youth and the diasporas. They ensure the reproduction of the power of traditional and political elites abroad by capturing incomes linked to migration (remittances), and therefore play a key role in the production of a form of globalization of Nigerian society from below. They participate in the establishment of moral and social institutions from the south of Nigeria in Europe. Behind a discourse of empowerment and solidarity, the confraternities are thus a transnational network which perpetuates a conservative order, a social hierarchy and the inequalities which they help to naturalize.
Si les confraternités nigérianes occupent une place croissante dans les médias au nom de la menace criminelle qu'elles représentent, elles n'ont fait l'objet d'aucun travail de recherche de terrain au Nigeria ni en Europe. Cette médiatisation alimente une confusion croissante entre les catégorisations juridico-policières qui sont utilisées pour les définir et les pratiques et discours panafricains, de solidarité ou d'émancipation, qu'elles mettent en avant. L'approche socio-historique développée dans cette étude permet de mettre en perspective l'expansion globale des confraternités depuis les années 2000, et de proposer un autre regard sur le rôle de ces sociétés secrètes et leur inscription dans des économies politiques et des territoires différents. En Europe, les confraternités sont d'abord des institutions sociales encadrant la jeunesse et les diasporas. Elles assurent la reproduction du pouvoir des élites tradition-nelles et politiques à l'étranger par la captation des rentes liées aux migrations (remittances), et jouent donc un rôle clé dans la production d'une forme de mondialisation de la société nigériane par le bas, participant à l'implantation des institutions morales et sociales du sud du pays en Europe. Derrière un discours d'empowerment et de solidarité, les confraternités sont ainsi un réseau transnational qui per-pétue un ordre conservateur, une hiérarchie sociale et des inégalités qu'elles contribuent à naturaliser.
Fichier principal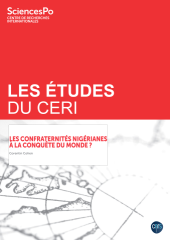 Etude_258.pdf (1.02 Mo)
Télécharger le fichier
Origin : Publisher files allowed on an open archive