L'idée de démocratie autoritaire : Quelques réflexions
Some reflections about the concept of authoritarian democracy. If authoritarian democracy looks like a self-destructing concept, however it is near to Tocqueville's thought arguing that democracy is not a guarantee per se for freedom ; in the History, Athenian democracy is rich of authoritarian elements such as political, social and moral surveillance, obligation of denunciation, members of the Assembly under permanent pressure, etc. It is well known that the people, said to be the sovereign, in fact cannot rule : the criticism soon appears in Bossuet or Guizot's publications. Here lies the problem of the identity between the leaders and the people, the source of a fallacious but compelling aspiration. When such a desire increases, the legitimacy of authoritarian powers grows more and more. What wants the authoritarian leader is to sweep away the mediations and balances of power, for the celebration of the identity between masses and the State. Concerning now the totalitarian system, the motto is that the whole people has entered the State, so that the most dangerous enemy lies in the individual and his judging capacity. In fact, the authoritarian features are not outside the democratic spirit when it becomes proud of the limitless power through the participation of the masses. Constitutionalist limitations are some possible sources of moderation in so far as citizens have learned that the representation process is not a mirror of identification. It is through Otherness that people can be self-governing. From a philosophical point of view, freedom nurtured by symbols of otherness perishes in the magnifying mirror of the Leader.
Le concept de démocratie autoritaire peut paraître contradictoire ; il est illustré par la pensée de Tocqueville, qui montre que la démocratie (pouvoir souverain du peuple) n'est pas en soi une garantie de liberté, mais aussi par l'Histoire : la démocratie athénienne a produit nombre de traits autoritaires (surveillance, dénonciation comme vertu politique, pressions multiples sur chaque individu en Assemblée, etc.). L'équation est bien connue : dans la démocratie représentative, « le peuple est souverain mais ne gouverne pas », la critique apparaît aussi bien chez Bossuet ou chez Guizot, pour contester ce traitement du concept de souveraineté. De là naît le problème de l'identité entre gouvernants et gouvernés, source d'une aspiration fallacieuse mais toujours renaissante. Plus cette identité est réclamée, plus le caractère autoritaire du pouvoir risque de se légitimer. La démocratie autoritaire veut « débarrasser la démocratie » des corps intermédiaires et des contrepoids au pouvoir, pour que l'on acclame l'identité désirée. Quant au système totalitaire, il prétend avoir fait passer le peuple entier dans le pouvoir et voit dans le jugement individuel l'ennemi qu'il a le plus à craindre. Les tendances autoritaires ne sont donc pas externes à la démocratie devenant ivre de puissance, et exaltant les masses ; les limitations constitutionnalistes sont du côté des remèdes, si l'éducation des citoyens sait leur apprendre que représentation n'est pas identification : le peuple ne se gouverne lui-même que par son Autre, reconnu comme tel. Pour le dire en philosophie, la liberté naît de l'altérité et meurt de la pulsion spéculaire.
Fichier principal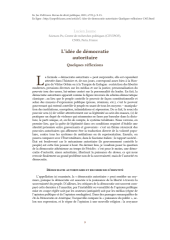 jp25-t02_jaume_article.pdf (1.03 Mo)
Télécharger le fichier
Origin : Publisher files allowed on an open archive