Le maquis d'Antoine dans Un Village français (France 3, 2009-2017) : un théâtre de la Résistance ?
Un Village français' fifth season follows several young men hidden in the forest in order to escape the STO (mandatory work in Germany). The war and its representation is one of the main subjects of these twelve episodes broadcast in 2013 on France 3. Driven by youth and its innocence, the protagonists at first don't seem to be concerned with the war and focus primarily on their survival in the woods, like kids who would play hide and seek. Soon, however, they meet some members of the French Resistance and face a choice: if they want to stay they have to commit to a new ideal and to fight alongside with the Resistance. If some of them choose to leave, most of them commit: the game seems now over and they have to face a new reality. However, the preeminence of the « game » into the daily life of the maquis does not end there and soon it evolves into real drama, when one of the refractory boys – a drama student – intends to stage a play in order to cope with the harsh conditions of living in the woods. Through a parade in Villeneuve on November 11th to pay tribute to the dead soldiers of the Great War, inspired by the real events in Oyonnax (Ain), this play proves it performativity. Indeed, even if they are not fighting yet, the maquis' members exist thanks to the patriotic symbolism of their action. Thus the fifth season of Un Village français develops a very specific outlook of the war and the resistance, which sometimes appears to be a game, a play or a symbol, even if it always remains dangerous.
Prenant pour objet la constitution d'un maquis de jeunes hommes qui cherchent à échapper au STO, la cinquième saison d'Un Village français, diffusée en 2013 sur France 3, propose une réflexion sur la guerre et sa représentation. Les protagonistes, mus par l'insouciance d'une jeunesse alors relativement peu touchée par l'Occupation, sont ignorants des enjeux de la vie de l'ombre et semblent d'abord jouer à la guerre. La rencontre avec la Résistance et l'engagement – à l'origine de la scission du maquis – ne mettent pas fin à cette prééminence du « jeu » dans la vie quotidienne du maquis, même si celui-ci change de forme pour devenir théâtre dans le cadre d'une pièce mise en scène par un des réfractaires, étudiant au conservatoire. Celle-ci a une dimension performative et donne naissance à un grand défilé dans Villeneuve à l'occasion du 11 novembre 1943, inspiré par le défilé réel à Oyonnax (Ain) à la même date. A défaut de se battre, les maquisards existent à travers une symbolique patriotique. La saison 5 d'Un Village français nous propose donc une réflexion autour de la nature de la guerre et l'importance de sa représentation, entre jeu, théâtre et symbole.
Fichier principal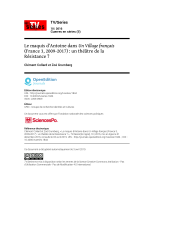 tvseries-1844.pdf (624 Ko)
Télécharger le fichier
Origin : Publisher files allowed on an open archive