Les banques centrales peuvent-elles encore être indépendantes ?
This paper deals with the independence of central banks. It provides a critical analysis of the foundations of the model that emerged in the 1990s and analyses its recent development. Central banks are now heavily involved in financial stability issues and the implementation of unconventional measures have magnified interactions with fiscal policy. We therefore suggest that the independence of central banks is not a sufficient condition for the effectiveness of economic policies. The broadening of their mandate and the interactions with fiscal policy and financial regulation call instead to strengthen the democratic control of central banks and the coordination between monetary policy, fiscal policy and prudential policy. To this end, we propose to change the composition of the committees in charge of the implementation of monetary and financial regulation policies in order to internalize externalities and coordinate decisions.
Cet article discute la notion d'indépendance des banques centrales en s'appuyant sur une analyse critique des fondements du modèle qui s'est imposée dans les années 1990 et en analysant son évolution récente. De fait, les banques centrales sont aujourd'hui fortement impliquées sur les questions de stabilité financière et ont des interactions croissantes avec la politique budgétaire. Nous suggérons alors que l'indépendance des banques centrales n'est pas une condition suffisante pour l'efficacité des politiques économiques. L'élargissement de leur mandat et les interactions avec la politique budgétaire et la régulation financière invitent plutôt à renforcer le contrôle démocratique des banques centrales et la coordination entre la politique monétaire, la politique budgétaire et la politique prudentielle. À cette fin, nous proposons de revoir la composition des comités en charge de la mise en œuvre des politiques monétaire et de régulation financière afin d'internaliser les externalités et de coordonner les décisions.
Fichier principal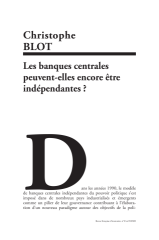 2018-3-rfe-les-banques-centrales-peuvent-elles-encore-etre-independantes-cblot.pdf.pdf (181.22 Ko)
Télécharger le fichier
Origin : Publisher files allowed on an open archive