Pension d'un salarié du secteur privé et transitions vers un système universel de retraite par points : Etude d'impact pour une carrière complète sous plafond
The adoption of a universal point system modifies the link between labor income and pension benefits. In this paper, we propose to measure the possible impact of such a change when considering different wage trajectories. We identify seven stylized case studies to characterize the main properties of the current system for employees in the private sector with full careers under the social security ceiling. To address the transition issue, we setup two methods for valuing acquired pension rights in the old system. The first is the immediate conversion of the pension rights into points. The second consists in making the rules of calculation coexist and paying pension benefits acquired before the reform in proportion to the contribution period length in the old system. We contemplate a benchmarch scenario of constant long-run generosity for a given career. The impact is shown not to depend on the income level but on the salary profiles: a redistribution is carried out in favor of weakly growing profiles at the expense of the steeper ones. For careers with poor contribution years, significant declines are to be expected. However, for low-wage careers, an increase in the minimum pension is likely to limit the impact of these decreases or even to lead to a higher perceived effective pension. The way in which acquired pension rights are valued is not neutral. The conversion is rather advantageous for the least dynamic careers while the nesting of the rules is more generous for the most dynamic careers.
L'adoption d'un système universel de retraite par points modifie le lien entre les revenus du travail et la pension de retraite. Dans cet article, nous proposons de mesurer l'impact possible d'un tel changement dans différents contextes de trajectoire salariale. Nous identifions sept cas-types suffisamment stylisés pour caractériser les principales propriétés du système actuel pour des salariés du secteur privé ayant eu des carrières complètes sous le plafond de sécurité sociale. Pour aborder la transition, nous étudions deux méthodes de valorisation des droits acquis dans l'ancien système. La première est la conversion immédiate des droits en points. La seconde consiste à faire cohabiter les règles de calcul (imbrication) et à attribuer une pension acquise avant réforme au prorata de la durée de cotisation dans l'ancien système. Nous identifions un scénario central de générosité constante à long terme pour une carrière donnée. Nous montrons qu'un impact différencié (et donc une redistribution) s'observe, indépendamment du niveau de revenu, au profit de la carrière peu dynamique et au détriment de la carrière plus dynamique. Pour des carrières comportant de mauvaises années cotisées, des baisses sensibles sont à craindre. Toutefois, pour les carrières avec de faibles salaires, une hausse de la pension minimum est en mesure de limiter l'impact de ces baisses voire au contraire conduire à une pension effectivement perçue plus élevée. La méthode de valorisation des droits acquis n'est pas neutre. La conversion est plutôt avantageuse pour des carrières peu dynamiques tandis que l'imbrication des règles est plus généreuse pour les carrières les plus dynamiques.
Fichier principal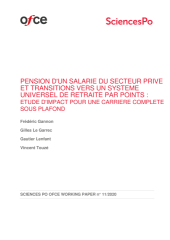 2020-gannon-pension-d-un-salarie-du-secteur-prive-et-transitions-vers-un-systeme-universel-de-retraite-par-points.pdf (402.53 Ko)
Télécharger le fichier
Origin : Publisher files allowed on an open archive