Le « Jeu de l'amour » : trajectoires sacrificielles et usages stratégiques des martyrs dans le mouvement sikh pour le Khalistan
Although the first Sikh martyrs gave their lives as early as the 17th century, it is only in the 19th that the Singh Sabha socio-religious reform movement standardized a Sikh "tradition" of martyrdom. This invented tradition was later on appropriated by Sikh revolutionary movements, such as the Ghadr movement of the 1910s, and even more so by the secessionist movement for Khalistan in the 1980s. For Khalistani guerillas, martyrdom was the outcome of a deeply individualistic death wish that prevented the leaders of the insurgent groups to define a rational strategy in their struggle against the Indian state. However, after the movement was militarily defeated, in the mid-1990s, these voluntary deaths were converted and celebrated (particularly on the Internet) as unambiguous sacrifices for the nation, and they were instrumental in the construction of a combative memory of the movement for Khalistan.
Si le Panth sikh a connu ses premiers martyrs dès le XVIIe siècle, ce n'est qu'au XIXe que le mouvement de réforme socio-religieuse des Singh Sabhas a formalisé un idiome du martyre sikh, édictant les (bonnes) manières de pratiquer et d'évoquer la mort volontaire dans le sikhisme. Ces codes pragmatiques et discursifs ont été appropriés par les mouvements révolutionnaires sikhs (tels que le Ghadr, au début du XXe siècle) et surtout par le mouvement sécessionniste pour le Khalistan. Chez les Khalistanis, le martyre présente une profonde ambiguïté, puisque le désir de mort des combattants sikhs à longtemps constitué un obstacle à l'adoption d'une stratégie insurrectionnelle cohérente par les leaders des groupes armés. Lors de la commémoration de la lutte armée, en particulier sur l'Internet, ces suicides anomiques à peine voilés ont été reconstruits par les entrepreneurs identitaires sikhs comme des sacrifices offerts à la nation, dépouillés de leur dimension profondément individualiste.
Fichier principal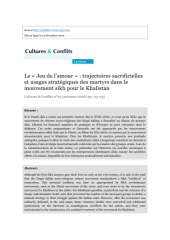 2006-gayer-le-jeu-de-l-amour.pdf (347.38 Ko)
Télécharger le fichier
Origin : Files produced by the author(s)