« Primavera », revolución y contrarrevolución
لم تستمر الدينامية الثورية، التي إنطلقت في العالم العربي في شتاء 2010-2011، إلا في خمسة بلدان فقط، عرفت كل واحدة منها سيناريو مختلف و خاص بها: ثورة مرفوقة بعملية إنتقال في تونس؛ ثورة من دون عملية إنتقال في ليبيا؛ إنقلاب مضاد للثورة في مصر؛ إنتقال مجهض في اليمن، و ثورة مضادة عن طريق الإفناء في سوريا. و يبطل هذا الصدام القوي بين الثورة و الثورة المضادة التحليلات السطحية حول "الربيع العربي".
The revolutionary dynamic which took root in the Arab world during the winter of 2010-2011 has only endured in five countries, with each one displaying a highly specific and divergent landscape: revolution with transition in Tunisia; revolution without transition in Libya; a counter-revolutionary coup in Egypt; failed transition in Yemen, and counter-revolution with annihilation in Syria. This implacable clash between revolution and counter-revolution annuls superficial analyses on an "Arab Spring".
La dinámica revolucionaria iniciada en el mundo árabe durante el invierno de 2010-2011 solo se ha mantenido en el tiempo en cinco países, cada uno de los cuales presenta un escenario muy específico y diferente: la revolución con transición en Túnez; la revolución sin transición en Libia; el golpismo contrarrevolucionario en Egipto; la transición abortada en Yemen; y la contrarrevolución por aniquilación en Siria. Este choque implacable entre revolución y contrarrevolución invalida los análisis superficiales sobre una "Primavera Árabe".
Fichier principal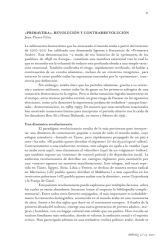 2017-01-filiu-casa-arabe-awraq-15.pdf (488.84 Ko)
Télécharger le fichier
Origin : Publisher files allowed on an open archive