Cuisine et politique en Inde. La politique culinaire des Kayasthes, caste de scribes
Cuisine and politics in india. the culinary politics of the kayastha, a scribe caste India is the home of two essential world cuisines embodying radically different philosophical principles. In the historical context of the Moghul and British Empires, these two cuisines make up a genuine political-gastronomic arena, a place of struggle and competition for the conquest of political and symbolic advantages. In the field of Hindu cooking, sanskritization, based on the observance of very specific cooking and eating rules, enables the lower castes to attempt to reach the status of the highest castes. The Muslim cooking field is by definition more secular, as in it the conquest of taste is freed from the socio-cosmic principles in which Hindu cooking confines it. It allows the expression of an ashrafization wich ennobles those who, rubbing shoul­ders with Mogul power, adopt its culinary mores. The Kayastha caste, originally a scribe caste, placed by its functions at the intersection of these two world cuisines, was able to take advantage of the gastro-political conflicts induced by the shock of Hindu and Muslim cooking and eating. Kayastha cuisine, illustrating the first inklings of a syncretic Indian cooking, thus cons­titutes a political idiom, one of the new "languages" of independent India.
L'Inde est le siège de deux cuisine s-monde essentielles aux principes philosophiques radicalement différents. Dans le contexte historique des Empires moghol et britannique, ces deux cuisi­nes constituent une véritable arène politico-gastrique, lieu de lutte et de concurrence pour la conquête d'avantages politiques et symboliques. Dans le champ de la cuisine hindoue, le pro­cessus de sanskritisation, fondé sur l'observance d'un cuire et manger très spécifique, permet aux castes inférieures de tenter de rejoindre le statut des castes les plus élevées. Le champ culinaire musulman est par essence plus laïc car la conquête du goût y est dégagée des prin­cipes socio-cosmiques dans lesquels la cuisine hindoue la confine. Il permet l'expression d'un processus d'ashrafisation « anoblissant » ceux qui, côtoyant le pouvoir moghol, adoptent ses mœurs culinaires. La caste des Kayasthes, à l'origine caste de scribes, située de par ses fonc­tions à l'intersection de ces deux cuisines-monde, sut tirer bénéfice des conflits gastro-politiques induits par le choc du cuire et du manger hindou et musulman. La cuisine kayasthe, illustrant les premiers frémissements d'une cuisine syncrétique indienne, constitue à ce titre un idiome du politique, l'un des nouveaux « langages » de l'Inde indépendante.
Fichier principal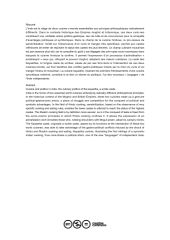 1998-zins-cuisine-et-politique-en-inde.pdf (2.71 Mo)
Télécharger le fichier
Origin : Publisher files allowed on an open archive