Note sur les conséquences globales de la reconstruction de l'Europe de l'Est et l'épargne mondiale
The investment needed to rebuild several of the economies of Eastern Europe will most probably be fairly important. This paper tries to answer the question of the adequacy of Western saving in the light of this new development. We argue that the world will suffer from a rise in the real rate of interest during a transitory period when an amount of capital will be reallocated to those parts of the East desiring and seen to be credit-worthy of possession of such capital. We then study the causes and consequences of the elevation of the real rate of interest, through the theoretical perspective of models of economic growth. Because Europe and the rest of the world will not be presumably equally affected, we reason in the framework of a two-countries, two- sectors model. We finally deal with the question of what the rest of the world should do, if anything, in response to the shocks coming from Eastern Europe.
La reconstruction des pays de l'Est exigera des investissements très probablement considérables. Cette note tente de répondre à la question de l'adéquation de l'épargne mondiale à ces besoins nouveaux. Une hausse des taux d'intérêts réels est à craindre pendant le processus « transitoire » où le capital mondial est réaffecté vers ces régions de l'Est dont le crédit serait jugé suffisant. Les conséquences et la genèse de cette hausse sont alors étudiés dans la perspective théorique cohérente des modèles de croissance. Parce que les bouleversements à l'Est n'affecteront pas pareillement l'Europe et le reste du monde, le raisonnement est conduit dans le cadre mieux adapté d'un modèle à deux pays. La question de ce que les pays développés devraient faire, s'ils doivent agir, en réaction aux chocs en provenance de l'Est est enfin discutée.
Fichier principal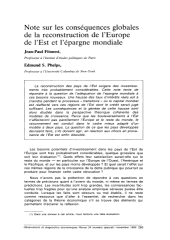 1990-10-fitoussi-note-sur-les-consequences-globales-de-la-reconstruction-de-l-europe-de-l-est-et-l-epargne-mondiale.pdf (1.08 Mo)
Télécharger le fichier
Origin : Publisher files allowed on an open archive