Les couples sur le marché de l'emploi
The literature on couples' labour market behaviour is rather scant. We investigate here the determinants of spouses' labour market activity in France. Our analysis is of exploratory nature. We use data drawn from the French Labour Force surveys of the years 1990-2002. We find that the proportion of dual-earners couples has risen substantially over the period considered. Positive assortative mating is one of the major determinants of joint labour market behaviour of spouses. We also analyze wage inequalities between spouses in dual-earners couples. We find that a non-negligeable proportion of women, roughly one fifth of women in dual-earners couples, earn higher salaries than their husbands. We conclude that the education level, the presence of children and positive assortative mating are the main driving factors for this phenomenon.
Les travaux portant sur les interactions de comportement sur le marché du travail des couples français sont peu nombreux. Dans cette étude, nous présentons une analyse exploratoire de l'activité des conjoints, à partir de données extraites des enquêtes Emploi des années 1990-2002. Le nombre des couples bi-actifs est en forte augmentation depuis 1990. La proportion des couples bi-actifs occupés a augmenté de presque 6 points de 1990 à 2002, en passant, respectivement, de 52 % à 58 %. Parmi les déterminants de la bi-activité du couple, l'homogamie des conjoints joue un rôle important. L'appartenance à une même catégorie socio-professionnelle augmente de façon importante et significative la probabilité de bi-activité du couple. Les conjoints avec un même niveau de diplôme ont aussi un taux d'activité significativement plus élevé, à l'exception des couples où ce diplôme est faible, pour lesquels les chances d'être actifs sont moindres. En revanche, la probabilité que les deux conjoints soient actifs diminue avec la différence d'âge : plus l'homme est âgé par rapport à sa femme, et moindres sont les chances que les deux conjoints soient actifs sur le marché de l'emploi. L'analyse montre aussi qu'un nombre non négligeable de femmes, mais elles sont encore largement minoritaires, gagne un salaire mensuel supérieur à celui de leurs conjoints. Il apparaît que le niveau de formation, la présence d'enfants dans le ménage et l'homogamie sont des déterminants importants des différences de salaire des conjoints et de la probabilité que la femme gagne autant ou davantage que son conjoint. Les couples non mariés sont plus souvent composés des deux conjoints actifs ; la probabilité que la femme gagne davantage que son conjoint est plus forte pour ces couples concubins. Ces résultats indiquent que le modèle mono-actif est en régression et que celui de l'homme travailleur principal ne constitue plus la norme.
Fichier principal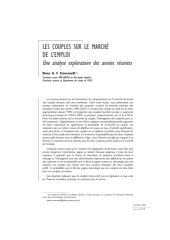 2006-10-stancanelli-les-couples-sur-le-marche-de-lemploi.pdf (179.52 Ko)
Télécharger le fichier
Origin : Publisher files allowed on an open archive