Crise et déficit de l'assurance maladie
The deficit of health insurance, about 1 percentage point of GDP mainly results from the economic crisis which reduced social contributions. This deficit contributes to the automatic stabilization of the economy and it should disappear with the return of growth. As far as it is not returned, the voluntary reduction of the deficit, rising levies or lower spending, would be counter-cyclical and must be rejected. But part of the deficit, we evaluate between 0.35 and 0.7 percent of GDP, results from the existence of a structural gap between growth in health spending and growth in GDP. For a good long-term management of health insurance, it is necessary eliminate the structural deficit, evaluated between 1.4 and 2.8 percent of GDP in 2020 without structural evolution. Hitherto it has been contend by a combination of taxes increase and reduction of reimbursement rate. The search for a better control of expenditure founded on a change in the organization of care (more collective exercise promoting complementary medicine and alternative between professions, building of a new system integrating best the ambulatory and hospital, ...) and a reform of the modes of financing (with more per capita remuneration for the physicists) for reduce inequalities in access to care would be worth discussed in the context of discussions on the spending trend health and their financing.
Le déficit de l'assurance maladie, de l'ordre de 1 point de PIB, résulte pour l'essentiel de la crise économique qui a réduit les recettes de cotisations sociales et de CSG. Ce déficit concoure à la stabilisation automatique de l'économie et il devrait se résorber avec le retour de la croissance. Tant que celle-ci n'est pas revenue, la résorption volontaire du déficit par la hausse des prélèvements ou la baisse des dépenses serait contra-cyclique et doit être écartée. Mais, une part du déficit, que l'on peut évaluer entre 0,35 et 0,7 point de PIB, résulte de l'existence d'un écart structurel entre la croissance des dépenses de santé et celle du PIB. Pour une bonne gestion à long terme de l'assurance maladie, il est nécessaire d'éliminer ce déficit structurel, évalué entre 1,4 et 2,8 points de PIB si rien n'est fait en 2020. Jusqu'alors celui-ci a été contenu par un mixte de hausse des prélèvements affectés au financement de l'assurance maladie et un baisse des taux de remboursement. La recherche d'une meilleure maîtrise des dépenses par un changement de l'organisation du système de soin (exercice collectif de la médecine favorisant complémentarité et substitution entre professions ; construction d'un système intégrant mieux l'ambulatoire et l'hôpital,...) ainsi qu'une réforme des modes de financement (réduction de la part du paiement à l'acte) permettant de réduire les inégalités d'accès aux soins (en particulier celles liées aux dépassements d'honoraires) mériteraient d'être discutées dans le cadre des débats sur l'évolution des dépenses de santé et de leur financement.
Fichier principal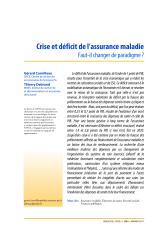 2011-01-cornilleau-crise-et-deficit-de-lassurance-maladie.pdf (204.83 Ko)
Télécharger le fichier
Origin : Publisher files allowed on an open archive