Concurrence et innovation en Europe
Competition among firms as well as among countries is one of the main innovation engines. In this perspective, growth policy should be understood as the formulation and enactment of the rules that assure full competition. However, things are much more complex in reality. Innovation is a creative destruction process that implies the disruption of a given productive structure, and the construction of a new and different one. This process can succeed or fail. It brings about co-ordination problems, not only at the innovating firms' level but also in relation with the environment. Focusing on the co-ordination conditions of the out-of-equilibrium process stirred by the choice of a given technology rather than on the incentives determining this choice has paramount analytical and policy implications. Monopolist practices as well as active macroeconomic policies thus appear as necessary means to guarantee the viability of the process of change. This view calls for trade-offs between conflicting objectives.
La compétitivité des entreprises et encore plus des nations est difficile à établir dans la mesure où elle n'est pas réductible à l'existence de règles et d'institutions favorisant la concurrence et assurant les incitations nécessaires à une innovation elle-même réduite à l'acquisition de nouvelles technologies. L'innovation est un processus de destruction créatrice qui implique que firmes et nations engagées dans un tel processus doivent surmonter des difficultés incarnées dans des chutes temporaires de performance avant de pouvoir tirer avantage de leurs choix. Dans cette perspective, la capacité à innover, c'est-à-dire les conditions de viabilité de l'évolution, comptent autant sinon plus que les incitations à innover. Les pratiques monopolistiques et l'acceptation de dérives temporaires du taux d'inflation ou des budgets, loin de constituer systématiquement un obstacle, deviennent une condition de cette viabilité. Il appartient, alors, aux autorités, dans les différents domaines de l'intervention publique, de faire les arbitrages nécessaires entre des objectifs ou des intérêts divergents, voire opposés. Il leur appartient de dire quelles pratiques sont acceptables et quand elles le sont, de dire quand il faut réduire le taux d'inflation et quand il faut le tolérer. Il en résulte qu'il n'y a pas de règles d'institutions optimales, mais des règles et des institutions qui garantissent l'existence de ces arbitrages face aux conséquences des changements structurels. Ces considérations devraient pouvoir alimenter la réflexion sur la nature des réformes institutionnelles dont l'Europe a besoin pour mieux piloter les choix conjoncturels comme les politiques structurelles.
Fichier principal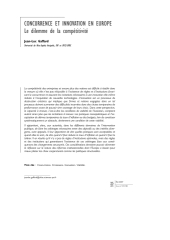 2007-07-gaffard-concurrence-et-innovation-en-europe.pdf (92.02 Ko)
Télécharger le fichier
Origin : Publisher files allowed on an open archive