Délocalisations : simple affaire de concurrence ou problème de politique économique ?
According to the standard perspective, relocation does not create any problem when full competition prevails in product, labour, and capital markets. Changes costs generate changes in location by firms in manufacturing industry at the benefit of less developed countries. In more developed countries, jobs are shifting from e.g. manufacturing to services industry, and the negative impact on households' purchasing power of lower nominal wages will be more than offset by lower prices of imported final goods. Unemployment will be temporary, unless market labour rigidities prevent the necessary jobs' shifting. According to an evolutionary perspective, relocation is an aspect of a process of creative destruction that results in real distortions and hence in market disequilibria. Therefore, even in a competitive environment, relocation may be associated with an increasing rate of unemployment and make it necessary for public authorities to combine structural and macroeconomic policies, the former being efficient only if the latter are growth oriented.
Suivant la perspective standard, les délocalisations ne posent aucun problème dans la mesure où la pleine concurrence prévaut sur les marchés de produit, du travail et du capital. Des changements des coûts de transport et de production peuvent, par exemple, engendrer des changements de localisation des firmes du secteur manufacturier au bénéfice des pays moins développés. Dans les pays plus développés, les emplois sont déplacés du secteur manufacturier vers le secteur des services, et l'impact éventuellement négatif sur le pouvoir d'achat des ménages de salaires nominaux plus faibles sera plus que compensé par la diminution des prix des biens importés. Le chômage sera frictionnel et temporaire, à moins que les rigidités sur le marché du travail empêchent le déplacement des emplois. Suivant une perspective évolutionnaire, les délocalisations deviennent un réel problème dans la mesure où elles sont un aspect d'un processus de destruction créatrice qui se traduit inévitablement par des distorsions locales de la structure de la capacité productive et des déséquilibres de marché. Dans cette dernière perspective, la délocalisation s'inscrit dans un processus d'ajustement. Même dans un environnement concurrentiel, elle peut être associée à un taux de chômage croissant et rendre nécessaire une intervention publique. Tout dépend, en fait, de la manière dont les problèmes de coordination sont traités. Mettre l'accent sur l'attractivité et la compétitivité des territoires peut conduire les autorités publiques à considérer implicitement le commerce international comme un jeu à somme nulle et à engager des politiques d'offre fondamentalement inappropriées qui peuvent entraîner une aggravation des déséquilibres. Aussi est-il nécessaire de déterminer sous quelles conditions des relocalisations prennent place sur un sentier qui conduit à un quasi-équilibre dynamique. Des interventions publiques sont requises, qui consistent à combiner des politiques structurelles et des politiques macroéconomiques, les premières n'étant efficaces que si les dernières promeuvent la croissance.
Fichier principal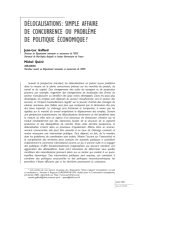 2005-07-gaffard-delocalisations-25e2-2588-25bcple-affaire-de-concurrence-ou-probleme-de-politique-economique.pdf (70.22 Ko)
Télécharger le fichier
Origin : Publisher files allowed on an open archive