Localisation, globalisation, et action publique
In a globalised world, firms are looking for the best place to produce goods and services. Local governments, on the other hand, are looking to attract these firms and associated jobs on their territory. This leads to the outsourcing and relocation phenomena that are the most visible aspects of globalisation. However, it would be dangerous to consider that competition amongst geographical regions is a simple struggle for a larger share of activity. Regional development depends not only on the coherence and efficiency of local relationships that may render a location more attractive than others, but also on the coherence and efficiency of the cooperative and competitive relations that take place between regions themselves. Thus, what is at stake is less the identification of local advantages than showing how and why local performance depends on both on the agglomeration of activity and globalisation of trade. Hence the goal that public authorities should pursue is less the promotion of fiscal or social advantages aimed at reducing unit costs than the fostering of efficient markets and firm cooperation. The credibility of such public intervention also depends on the size of the local region and the degree of coordination between regions.
Dans un monde globalisé, les entreprises sont incitées à modifier la localisation de leurs activités pour tirer parti des avantages différenciés des nombreux territoires éligibles. Les collectivités publiques aux différents échelons territoriaux sont engagées, de leur côté, dans des actions susceptibles d'accroître leur attractivité. Pourtant, il serait dangereux de percevoir les territoires comme simplement concurrents entre eux pour capter des parts de marché sur le marché des localisations d'entreprises sur la base d'avantages génériques. Le développement des territoires est, certes, dépendant des avantages locaux dont bénéficient les entreprises, mais aussi de l'articulation des territoires entre eux, qui sont, certes en concurrence, mais une concurrence aux dimensions multiples qui peut être bénéfique à chacun. La question posée n'est pas tant alors celle de dénombrer les avantages de la proximité que de montrer en quoi et comment la performance des territoires dépend à la fois de l'agglomération d'activités et de la globalisation des échanges dans un contexte de restructuration permanente. L'objectif de l'action publique est moins d'agir sur des avantages directs de coûts pour les entreprises que de contribuer à un fonctionnement cohérent des marchés et au développement des coopérations entre acteurs de l'innovation dans un environnement ouvert. L'efficacité de cette action est subordonnée à la taille du périmètre géographique concerné et/ou au degré de coopération existant entre les différentes régions. L'évolution d'une politique visant au développement de technopoles vers une politique de pôle de compétitivité est significative de cette exigence.
Fichier principal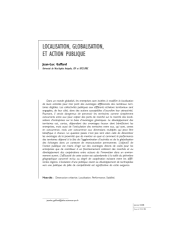 2008-01-gaffard-localisation-globalisation-et-action-publique.pdf (73.36 Ko)
Télécharger le fichier
Origin : Publisher files allowed on an open archive