Combattre les inégalités entre les femmes et les hommes
Public policies aimed at promoting gender equality should not be elaborated without making sure that their goals are consistent. Among a number of factors, such policies must crucially take into account labour market conditions and social protection dynamics. This paper deals with the importance of these factors and begins with an overview of European objectives in terms of gender equality. It then offers an analysis of the contrasted trends in the recent evolution of women's integration in the labour market. It is shown that public policies adopted in the EU and in France reveal inner contradictions that can threaten their efficiency. On the one hand, when the effort to promote gender equality is only a part of the wider effort against social precariousness, the specific cause of woman precariousness can be neglected. On the other hand, when only immediate goals are considered without attending to deep rooted causes, gender inequalities remain untouched. Further debate is thus needed on the issue of gender equality policies' efficiency.
La définition des politiques publiques destinées à favoriser l'égalité entre les femmes et les hommes, qu'elles se situent au niveau national ou européen, suppose que soit discutée la cohérence des objectifs et leur articulation. Elle suppose aussi que soit tracé le lien avec les évolutions du marché du travail et de la protection sociale. L'objet de cet article est de poser quelques questions sur ces relations, à partir d'un rappel des objectifs européens et d'une analyse des évolutions récentes de l'insertion des femmes sur le marché du travail, qui met en lumière les évolutions contrastées de ces dernières années. Si les objectifs sont simples à définir — promouvoir l'égalité —, l'agencement des politiques publiques révèle certaines contradictions, tant en Europe qu'en France, et soulève des difficultés qui ne sont pas toujours faciles à résoudre. Entre l'écueil qui consisterait à diluer la lutte contre les inégalités entre les hommes et les femmes dans celle qui concerne l'ensemble des relations sociales — par exemple en combattant la précarité en général, sans comprendre que la précarité des femmes a des causes globales et des causes spécifiques — et l'écueil qui limiterait l'action à des objectifs immédiats sans s'attaquer aux causes profondes, les politiques publiques en faveur de l'égalité méritent encore d'être débattues.
Fichier principal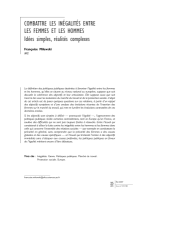 2007-milewski-combattre-les-inegalites-entre-les-femmes-et-les-hommes.pdf (77.75 Ko)
Télécharger le fichier
Origin : Publisher files allowed on an open archive