Pourquoi les politiques publiques sont-elles si peu suivies d'effets ?
The integration of women into the labour market has gone through both upswings and downturns. In view of this ambivalent result, we can question the efficiency of public policies set up to overcome gender inequality and fight gender discrimination. Does a real will exist, and if so why is it so inefficient or so poorly implemented? What forms do individual and collective resistance take? Most of the time, public policies are defined in terms of compensation and correction. But they don't deal with the actual causes of women's underemployment resulting from labour market adjustments. It is therefore the definition of the public policies that we need to examine, going beyond a binary view that opposes economic issues, on the one hand, to social, juridical and cultural concerns on the other.
L'insertion des femmes sur le marché du travail a connu à la fois des avancées et des reculs. Si davantage de femmes accèdent à l'éducation supérieure et aux emplois qualifiés, d'autres sont touchées par la précarité et connaissent une dégradation de leurs conditions de travail et de vie. Face à ce constat ambivalent, on peut questionner la mise en œuvre et l'efficacité des politiques qui visent à promouvoir l'égalité entre les femmes et les hommes. Cet article a pour objectif de soulever quelques débats. Le plus souvent, les politiques publiques au sens large (y compris la protection sociale) sont définies en termes de compensation et de correction des inégalités et des discriminations. Mais elles ne concernent pas les causes effectives de l'extension du sous-emploi des femmes, qui relèvent du fonctionnement même du marché du travail. C'est donc la définition des politiques publiques qu'il faut interroger, en dépassant une vision binaire qui oppose d'une part un champ économique extérieur, d'autre part un champ social, juridique et culturel qui, seul, pourrait être l'objet d'inflexions. En réalité, le champ économique est aussi le produit des politiques publiques : la libre-concurrence et la prééminence du marché sont le résultat d'une action volontaire des États. Il faut donc réintégrer les politiques économiques dans le champ de la réflexion sur les moyens de combattre les discriminations à l'encontre des femmes.
Fichier principal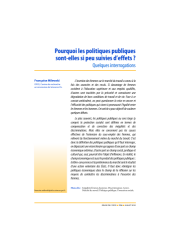 2010-07-milewski-pourquoi-les-politiques-publiques-sont-elles-si-peu-suivies-deffets.pdf (865.49 Ko)
Télécharger le fichier
Origin : Publisher files allowed on an open archive