Rendements croissants et structure spatiale des salaires en France
New Economic Geography presents increasing returns to agglomeration as the central explanation behind the concentration of economic activity. Within this framework, returns to scale are caused by a preference for variety in consumption which is better satisfied by agglomeration. The estimation of the size of these effects remains, however, a standing issue in the field. The focus of this study is to investigate the presence of increasing returns to agglomeration in the French spatial structure of wages using the methodology developed in Fingleton (2003) and initially used in the UK. The central finding is the statistically significant presence of such returns to scale for France, of a size comparable to the one found for the UK in the original study. Compared to Fingleton's original work, a further results show that the results are robust to changes in the specification of the spatial weights matrix, and that taking into account a larger time-dimension leads to an improvement of the significance and the diagnostic tests.
La nouvelle économie géographique présente les « rendements croissants d'agglomération » comme une variable explicative privilégiée de la concentration spatiale de l'activité économique. Dans ce cadre théorique, ces rendements croissants découleraient d'une préférence pour la variété dans la consommation. Un des enjeux empiriques de la nouvelle économie géographique reste cependant l'estimation de leur taille. Nous cherchons à évaluer la présence de tels rendements croissants d'agglomération dans la structure spatiale des salaires français, en utilisant la méthodologie d'estimation développée pour le Royaume-Uni par Fingleton (2003). Le résultat central de notre étude est la présence statistiquement significative de rendements croissants d'agglomération sur les zones d'emploi françaises, du même ordre de grandeur que ceux trouvés par Fingleton. De plus, par rapport à l'analyse originale, nous montrons que l'analyse est peu sensible à la pondération des distances entre zones d'emploi, et que la prise en compte d'une plus grande dimension temporelle permet d'améliorer la significativité des résultats.
Fichier principal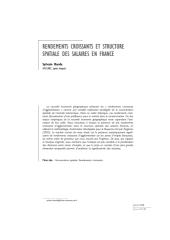 2008-01-barde-rendements-croissants-et-structure-spatiale-des-salaires-en-france.pdf (150.55 Ko)
Télécharger le fichier
Origin : Publisher files allowed on an open archive