Elections et notabilité en Iran. Une analyse du scrutin législatif de 2016 dans quatre circonscriptions
Elections and notability in Iran. Analyzing the 2016 legislative vote in four wards.

Elections have been trivialized in Iran. They allow for the expression of diversity, in particular ethnical and denominational, of historical regional identities, and prove the growing professionalization of political life. Paradoxically, such professionalization withdraws the Republic away into the levels of family, parenthood, autochthony, and even neighborhoods or devotional sociability, which are all institutions that instill a feeling of proximity, solidarity, communion; close to the notion of asabiyat. As the saying goes, the Islamic Republic has become a « parentocracy » (tâyefehsâlâri). The country's industrial development isn't at odds with such ponderousness since it lies on a web of very small family businesses. The analysis of the 2016 legislative elections in four wards reveals how important the issue of property is in political life, indivisible as it is of the various particularistic consciences. The connections with notables are still there, revealing lines of continuity with the old regime as well as longstanding agrarian conflicts that have not been erased by the Revolution and that are being kept alive through contemporary elections.
En Iran, le fait électoral s'est banalisé. Il permet l'expression de la diversité, notamment ethnique et confessionnelle, des terroirs historiques dans les provinces, et témoigne de la professionnalisation croissante de la vie politique. Paradoxalement, cette professionnalisation replie la république sur l'ordre de la famille, de la parenté, de l'autochtonie, voire du quartier ou de la sociabilité dévotionnelle – autant d'instances instillant un sentiment de proximité, de solidarité, de communion qui renvoie à la fameuse notion d'asabiyat. Selon une expression courante, la République islamique est devenue une « parentocratie » (tâyefehsâlâri). Le développement industriel du pays ne contredit pas cette pesanteur, dans la mesure où il repose sur un tissu de très petites entreprises familiales. L'analyse des élections législatives de 2016 dans quatre circonscriptions révèle l'importance dans la vie politique locale de la question foncière, indissociable de ces différentes consciences particularistes. Des lignes de continuité notabiliaire avec l'ancien régime se dévoilent, ainsi que de vieux conflits agraires que n'a pas effacés la césure révolutionnaire et qu'entretiennent ou ravivent les scrutins contemporains.
Fichier principal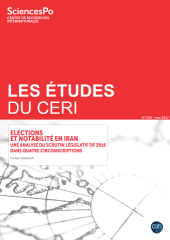 mai-2017-adelkhah-etude-ceri-230.pdf (1.14 Mo)
Télécharger le fichier
Origin : Publisher files allowed on an open archive