Le récit de vie d'une génération : la trajectoire de Chinois né avec la Chine socialiste
The life story of a Generation: Chinese born under socialist China
One of the most striking phenomena of China's recent history is the singular life trajectory of the generation born in large metropolises between the end of the 1940s and the early 1950s. After having endured with full force their country's upheavals and ruptures after 1949, the people of this generation occupy dominant positions in most sectors of social life today. Yet despite its importance, the history of this generation—who contributed to build what China is today—has not triggered much academic research. The seven life stories presented in this study provide information and a testimony that help understand how these people elaborate a discourse on their personal experience. Analysing this discourse makes it possible to grasp the connections between individual life paths and events as well as social determinations.
Un des phénomènes les plus frappants de l'histoire récente de la Chine est la trajectoire singulière d'une génération, celle qui est née dans les grandes métropoles entre la fin des années 1940 et le milieu des années 1950. Ses membres ont subi de plein fouet, pour le meilleur et pour le pire, l'ensemble des convulsions et des ruptures qu'a connues le pays depuis 1949, et occupent aujourd'hui les positions dominantes dans la plupart des domaines de la vie sociale. Malgré son importance, l'histoire de cette génération qui a en partie construit la Chine actuelle a fait l'objet de peu de travaux. Les récits de vie de sept de ses représentants constituent une source d'information qui permet de recueillir le point de vue de ces acteurs et de comprendre comment ils élaborent aujourd'hui un discours autour de leur expérience personnelle. L'analyse de ce discours permet de cerner l'interaction des trajectoires individuelles avec les événements et les déterminations sociales.
Fichier principal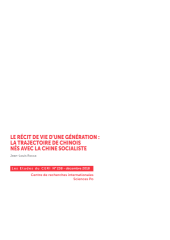 2018-12-rocca-etudes-ceri-238.pdf (591.8 Ko)
Télécharger le fichier
Origin : Publisher files allowed on an open archive