Reclassement des salariés licenciés économiques : velléités et bonnes pratiques
In case of economic redundancy employees are entitled to e-employment support schemes that depends on the workforce size of the employer. Whether the company is small or large the worker's choice is limited to accepting or refusing the device imposed by law "Redeployment leave" or "Professional Security Contract" (CSP). However, these two schemes are very different. On the one hand, CSP provides good financial security to the unemployed and increases his chances to find a new job. On the other hand, the Redeployment leave is an obsolete formula, based on unverified a priori, that the State no longer monitors or finances for years, a leap into the unknown for the employee. The introduction of new "mutually agreed terminations" in 2008 and the recent unemployment insurance reform have further complicated the choices available to redundant employees. This paper highlights inequalities weighting on these workers as regards information, rights and financial security, depending neither on their profile nor their behavior, but only on the status of their employer and inconsistent rules. Simple reforms could restore fairness and increase re-employment opportunities following redundancy. At least, the legal and financial parameters should be the same for the two existing schemes, or the right to choose the CSP regardless of the size of the company could be introduced, especially as this would not entail any additional costs for the company. A more ambitious reform could generalize the CSP, matching it with a financing of the reemployment support scheme by the employer. This contribution would replace the current cost of the company's internal reemployment support scheme, growing with the company's contributory capacities, of which size is only one aspect. It is also wise to see further. Indeed, as economic dismissal became a marginal form of terminating a labour contract, the economic motive for ending labour contracts remains the main cause of separation. Linking re-employment leave schemes only to terminations of indefinite duration contracts labelled as "economic" hinders equal access to efficient schemes that would increase unemployed financial security as well as their future employment opportunities.
Le dispositif de reclassement dont peut bénéficier un salarié licencié économique dépend de l'effectif total de l'entreprise qui l'emploie : selon que celle-ci est petite ou grande, le choix du salarié se limite donc à accepter ou refuser le dispositif qu'impose la loi, Congé de reclassement ou Contrat de Sécurisation Professionnelle (CSP). Cette inégalité a de grande conséquences car ces deux dispositifs sont très différents. D'un côté le CSP sécurise bien le chômeur et accroît ses chances de reclassement. De l'autre le Congé de reclassement est un dispositif obsolète, basé sur des a priori dont nul ne vérifie la réalité, que l'État ne suit ni ne finance plus depuis longtemps, un saut dans l'inconnu pour le salarié. L'introduction de la rupture conventionnelle en 2008 et la réforme récente de l'assurance chômage ont encore compliqué le choix entre les options ouvertes à ces salariés. Nous mettons ici en évidence les inégalités d'information, de droits et de sécurité financière, qui s'imposent à ces salariés en voie de licenciement économique et qui ne dépendent ni de leur profil ni de leurs comportements mais seulement du statut de leur employeur et de réglementations incohérentes. Des réformes simples pourraient rétablir l'équité et augmenter les chances de reclassement à la suite d'un licenciement économique. Il s'agirait a minima d'homogénéiser les procédures et les paramètres des deux dispositifs existants, ou tout simplement d'ouvrir un droit d'option pour que tous les licenciés économiques qui le souhaitent puissent opter pour le CSP, quelle que soit la taille de l'entreprise qui les emploie – celle-ci ne supportant aucun coût supplémentaire. Une réforme plus ambitieuse pourrait consister à généraliser le CSP en l'assortissant à un financement de l'accompagnement du salarié par l'employeur. Un tel abondement remplacerait les budgets actuellement investis par l'entreprise dans le dispositif qu'elle doit mettre en place ex-nihilo, et pourrait être fonction de la capacité contributive de l'entreprise dont la taille de l'effectif n'est qu'un aspect. Il est aussi opportun de voir plus loin, car si le licenciement économique est devenu une modalité marginale de rupture du contrat de travail, le motif économique des fins de contrat reste la cause majoritaire de séparation. Lier le reclassement aux seules ruptures de CDI officiellement labellisées comme ayant un motif économique a pour effet de priver de nombreux chômeurs d'un accès égal à des droits qui augmenteraient leur sécurité et leurs chances de reclassement.
Fichier principal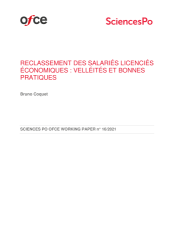 OFCEWP2021-16.pdf (644.18 Ko)
Télécharger le fichier
Origin : Publisher files allowed on an open archive