Parler de l'extrême-droite. Registre commun et particularités locales du discours des militants Les Républicains sur le Front National
This paper studies the discourse of Les Républicains' activists about the Front national, knowing the dilemma of the moderate right between ideological convergence and democratic responsibility. It relies on a field research carried out in three medium-size French cities, included a Mediterranean one. It identifies a normative register specific to LR activists, focused on the preservation of a social-economic order and on the distinction between mainstream and protest parties, rather than on the preservation of a democratic and republican order. It also shows that this register is expressed in different ways according to the sociopolitical environment of the activists, and that the principled opposition to the Front national can be weaker according to the local electoral and political context.
Cet article étudie le discours des militants des Républicains à propos du Front national, sachant le dilemme de la droite partisane tiraillée entre convergence idéologique et responsabilité démocratique. Cette enquête s'appuie pour cela sur une enquête localisée dans trois villes moyennes françaises, dont une ville méditerranéenne. Elle identifie un registre normatif propre aux militants LR, davantage axée sur la préservation d'un ordre socioéconomique et la distinction entre partis protestataires et de gouvernement que sur la préservation d'un ordre démocratique et républicain. Elle montre en revanche que ce registre s'exprime différemment selon l'environnement sociopolitique des militants, et que l'opposition de principe au Front national peut être fragilisée selon la situation politique et électorale locale.
Fichier principal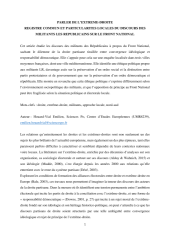 houard-vial-article-pole-sud-discours-sur-l-extreme-droite.pdf (130.53 Ko)
Télécharger le fichier
Origin : Files produced by the author(s)