Groupes d'intérêt et financement de la vie politique en France : une évaluation des effets de l'interdiction des dons de personnes morales
This paper aims to highlight the impact of the ban on political donations from private organisations on pressure groups' strategies in France. First, we present the framework of the political contribution market before 1995. Analysing the budget of the 1993 legislative election candidates and the accounts of political parties in 1994, we show that the "exchange model" of donation is more relevant than the "support model." In other words, givers seek to influence more public decision than election results. Using this result, we analyse the impact of the ban on the framework of the contribution's market. More especially, we show the decrease in the set of opportunities to influence the public decision process. The impact on how the French democracy is working is also considered.
Cette étude cherche à mettre en évidence l'impact de l'interdiction du financement politique par des personnes morales en 1995 sur les stratégies des groupes de pression en France. Dans un premier temps, nous présentons l'organisation du marché des contributions financières avant 1995, à partir de l'analyse du financement des candidats aux élections législatives de 1993 et des comptes des partis politiques en 1994. Nous en concluons à l'existence de stratégies de soutien de la part des financeurs, c'est-à-dire une recherche d'influence sur les décisions publiques des candidats et partis plus que sur les probabilités d'élection. À partir de ce constat, nous envisageons l'incidence de l'interdiction sur l'organisation du marché des contributions, qui se traduit par une limitation des stratégies possibles d'influence sur le processus de décision publique. La question des conséquences de cette limitation sur la qualité de la démocratie est ensuite abordée.
Fichier principal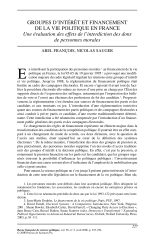 2006-groupes-d-interet-et-financement.pdf (117.42 Ko)
Télécharger le fichier
Origin : Publisher files allowed on an open archive