Les pauvres et la consommation
The history of the poor since the development of the consumer society in the post-war period has been, first that of the increase in wealth and the access to comfort of the working class during the Trente Glorieuses (30-year period of economic growth). The champions of progress paid scant attention to the persistence of misery in shantytowns, considering those remaining in poverty to be ill-adapted to modernity. Added to this, neither worker's organizations (trade unions and the Communist Party) nor social scientists took much interest in extreme poverty, engaged as they were in underlining the particularities of working-class consumption in order to prove the continued existence of social classes in the consumer society and to oppose those who predicted their disappearance. However, the economic crisis of the 1970s gave rise to an 'impoverished middle-class', which aspired to the mainstream standard of living but possessed only meager means to attain it. The poor became a consumer segment, characterized by weak purchasing power sometimes coupled with limited social and cultural skills with the result that they frequently had to pay more for access to the market, which had become a prerequisite to participation, however minimal, in social life.
L'histoire des pauvres dans la société de consommation depuis la seconde guerre mondiale fut d'abord celle de l'enrichissement et de l'accès au confort des classes populaires pendant les Trente Glorieuses. La misère qui subsistait dans les bidonvilles intéressait peu les chantres du progrès, qui qualifiaient d'inadaptés ceux qui restaient à l'écart. D'autant que les organisations ouvrières comme les sciences sociales s'intéressaient peu à la très grande pauvreté, occupées qu'elles étaient à souligner les particularités de la consommation des ouvriers, pour prouver la persistance des classes sociales dans la société de consommation et lutter contre ceux qui annonçaient leur dilution. Cependant, la crise économique depuis la fin des années 1970 a créé une « classe moyenne paupérisée » pratiquant peu l'autoconsommation et aspirant à un mode de vie similaire à celui du groupe majoritaire. Les pauvres sont devenus un segment de consommateurs caractérisé par un faible pouvoir d'achat parfois associé à des compétences sociales et culturelles fragiles qui les condamnent souvent à payer plus cher leur accès au marché. Celui-ci semble désormais être le passage obligé d'une participation, même minimale, à la vie sociale.
Fichier principal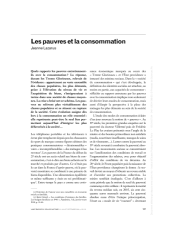 ving-091-0137.pdf (256.65 Ko)
Télécharger le fichier
Origin : Publisher files allowed on an open archive