La révolution ne sera plus télévisée
While traditional media are often accused of downgrading the quality of information and political debates, the Internet is usually presented as the leaven of a new democracy. Thanks to its functionalities it is said to transform web surfers into enlightened citizens, to offer real discussion forums and to establish a direct dialogue, without any interference, between the government and the governed. However, does such a vision of a democracy revitalized through the power of technology correspond to the political usage of the Internet over the past ten years ? The article tries to answer this question on the basis of the various surveys and studies realized in France and abroad about this topic.
Alors que les médias traditionnels sont souvent accusés de dégrader la qualité de l'information et du débat politiques, l'Internet est communément présenté comme le ferment d'une nouvelle démocratie. Grâce à ses fonctionnalités, il transformerait les internautes en citoyens éclairés, offrirait de véritables forums de discussion et instaurerait un dialogue direct, que rien ne parasite, entre gouvernants et gouvernés. Mais cette vision d'une démocratie revitalisée grâce à la puissance de la technique correspond-elle aux pratiques et usages politiques de l'Internet que l'on peut observer depuis une dizaine d'années ? C'est à cette interrogation que se propose de répondre cet article en s'appuyant sur les enquêtes et études réalisées en France et à l'étranger sur le sujet.
Fichier principal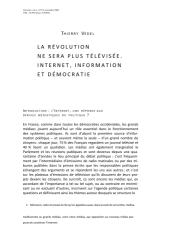 2006-vedel-la-revolution-ne-sera-plus-televisee.pdf (150.83 Ko)
Télécharger le fichier
Origin : Files produced by the author(s)