L'identification biométrique de 1,3 milliard d'Indiens. Milieux d'affaires, Etat et société civile
Biometric Identification of 1.3 Billion Indians. The business Community, the State and the Civil Society -- In 2009, India embarked on a scheme for the biometric identification of its people. This project was conceived by IT companies based in Bengaluru. The programme's main architect, Nandan Nilekani, was in fact the head of one of these firms. The idea behind the project was to use digital technology – and the data it enables to collect – for economic ends. But to register the entire Indian population, the State had to be persuaded to be involved in the project, later named as "Aadhaar". The rationale that secured the government's engagement was financial: using Aadhaar would help disburse aid to the poor while minimising the "leakages" caused by corruption and duplicates among beneficiaries. Yet, possessing an Aadhaar number gradually became necessary for a number of other things, too, including tax payment. When approached to rule on this matter, the Supreme Court dragged its feet and did not seek to decisively protect people's privacy. As for the avowed aim of the scheme itself, Aadhaar did not improve the quality of the services rendered to the poor – far from it – and its economic impact, too, remains to be proven, even if operators who believe that "data is the new oil" consider benefits in a long term perspective.
L'inde a engagé en 2009 un programme d'identification biométrique de sa population. Il s'agissait à l'origine d'un projet né au sein des entreprises informatiques basées à Bangalore, et son principal architecte, Nandan Nilekani, était d'ailleurs le patron d'une de ces grandes firmes. Leur dessein était d'utiliser les techniques du numérique et les données qu'elles permettent de recueillir à des fins économiques. Mais pour enregistrer l'ensemble de la population indienne, il fallait convaincre l'Etat de s'investir dans l'opération. L'argument qui emporta l'adhésion du gouvernement fut financier : ce programme, nommé Aadhaar, permettrait de distribuer les fonds d'aide aux pauvres en minimisant les pertes liées notamment à la corruption et à l'existence de doublons parmi les bénéficiaires. Or être identifié par Aadhaar est devenu peu à peu nécessaire pour réaliser de multiples opérations de la vie courante, y compris pour payer ses impôts. Saisie, la Cour suprême a tardé à se prononcer et n'a pas cherché à protéger la vie privée des personnes d'une manière convaincante. Aadhaar n'a pas non plus préservé la qualité des services rendus aux pauvres – loin de là – et son impact économique est encore à prouver, même si les opérateurs qui croient que data is the new oil se situent dans une perspective de long terme.
Fichier principal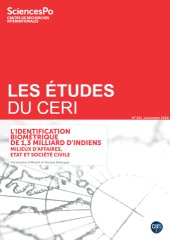 2020-11-jaffrelot-identification-biometrique-inde-etude-du-ceri-251.pdf (729.82 Ko)
Télécharger le fichier
Origin : Publisher files allowed on an open archive