La guerre de Biélorussie n'aura pas lieu
Interview with Marie Mendras, CNRS Research Fellow, CERI Sciences Po, and Professor, Paris School of International Affairs, Sciences Po.
Un petit rappel des 26 ans d'Alexandre Loukachenko à la tête de la Biélorussie n'est pas inutile pour comprendre pourquoi la grande majorité des Biélorusses ne supporte plus le dictateur depuis des années. En 1994, l'ancien directeur de sovkhoze agricole est élu président. Il ne propose pas de dé-soviétiser l'économie et la société, et promet sécurité et bonnes relations avec Moscou. La situation économique s'améliore dans les années 2000, grâce au boom des hydrocarbures russes, dont la Biélorussie assure une partie du raffinage et du transport vers l'Europe. La courbe s'inverse dans les années 2010 et le pays s'appauvrit. La nouvelle génération ne se reconnaît pas dans ce chef vieillissant et réactionnaire. En incarnant la république nationale et indépendante dans les années 1990, Loukachenko construit peu à peu son domaine souverain et installe une autocratie répressive. Il prend le contrôle des institutions politiques...
Fichier principal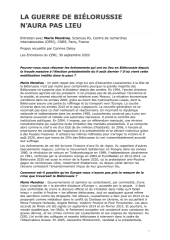 2020_Mendras_La guerre de Bielorussie naura pas lieu.pdf (679.48 Ko)
Télécharger le fichier